Education India
Education / College & University : Harvard, Yale not likely to set up campuses in India: Sibal
Foreign Universities: The Answer to India's problems?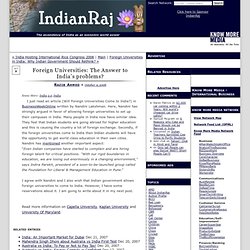 I just read an article (Will Foreign Universities Come to India?) in BusinessWeekOnline written by Nandini Lakshman. Here, Nandini has strongly argued in favor of allowing foreign universities to set up their campuses in India. Many people in India now have similar idea. They feel that Indian students are going abroad for higher education and this is causing the country a lot of foreign exchange. Secondly, if the foreign universities come to India then Indian students will have the opportunity to get world class education in their own cities.
An Overview of the Education Market in India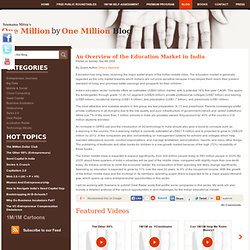 Posted on Sunday, Sep 6th 2009 By Guest Author Shipra Agarwal Education has long been receiving the major wallet share of the Indian middle class. The education market is generally regarded as the only market towards which Indians are not price-sensitive because it has helped them reach their present standard of living and promises better earnings and prospects for their children. India's education sector currently offers an estimated US$40 billion market, with a potential 16% five-year CAGR.
India education market introduction - Education UK Marketing - British Council
<a href="//ad.doubleclick.net/jump/teg.tdqk/skwo/a;subs=n;wsub=n;sdn=n;!c=16743639;dcopt=ist;pos=ldr_top;sz=728x90,970x90,970x250;tile=1;ord=606835645?" target="_blank"><img src="//ad.doubleclick.net/ad/teg.tdqk/skwo/a;subs=n;wsub=n;sdn=n;!c=16743639;dcopt=ist;pos=ldr_top;sz=728x90,970x90,970x250;tile=1;ord=606835645?"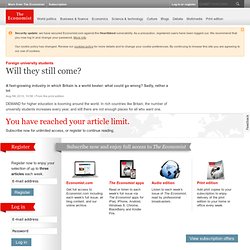 Foreign university students: Will they still come?
A day after the Cabinet approved setting up of foreign universities in India, CNBC-TV18's Kritika Saxena learns that universities have not only sent their representatives to discuss details with the government but also set aside investment for India. Sources say significant investment is expected from leading institutes like Harvard, Oxford, Wharton, and Columbia. Harvard is expected to shell out USD 60 million for India, Oxford USD 60 million, and Wharton USD 50 million. Representatives from leading foreign universities are here to discuss details with the government. Universities wary of regulations post clearance by Parliament.
Foreign universities set aside investments for India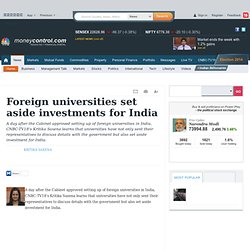 Harvard Business School Announces 2012 India Program Portfolio Including Four New Programs
Indian Institute of Foreign Trade | IIFT | Mangement programs at IIFT
The Indian Institute of Foreign Trade (IIFT) was set up in 1963 by the Government of India as an autonomous organization to help the country's foreign trade management and increase exports by developing human resources; generating, analyzing and disseminating data; and conducting research. Over the years, IIFT has undertaken path-breaking research studies with well-known organizations like WTO (World Trade Organization), World Bank, UNCTAD (United Nations Conference on Trade and Development) and the Ministry of Commerce & Industry, Government of India.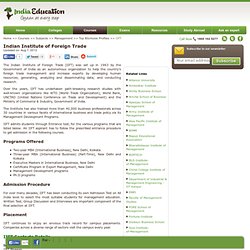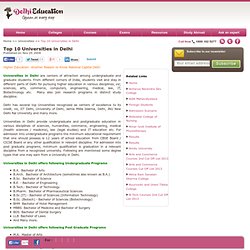 Higher Education: Another Reason to Know National Capital Delhi
Top 10 Universities in Delhi | Best Ten Universities in New Delhi
Think higher education! No World Class Universities (WCU) in India?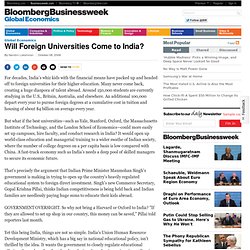 Will Foreign Universities Come to India?
For decades, India's whiz kids with the financial means have packed up and headed off to foreign universities for their higher education.
Opening for foreign universities in India
Think higher education! Foreign universities' entry into India will raise academic standards
The bill, still subject to a decision by Parliament, appears to be an acknowledgment by public officials that the country's largely public higher education system cannot cope with the rising demand for degrees from a large population of young people. About half of 's 1.2 billion people are 25 or younger. "In the next 10 years, you are going to have more than 40 million children going to college, an extra 40 million," said Kapil Sibal, the minister for human resource development. "So you have to create infrastructure for them." Though the government has begun investing more in education, most public universities, like grade schools, have been starved for resources. Private institutions have taken up some of the slack, but a corrupt and tortuous bureaucracy makes obtaining permits difficult.
Indian Cabinet Backs Letting In Foreign Campuses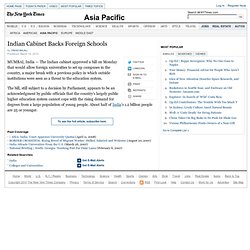 Foreign Universities in India
Kapil Sibal is in full swing and he has cleared the draft of Foreign Education Providers (Regulation) Bill to be placed before the Union Cabinet. Once the cabinet clears it, the Foreign Education providers will be able to offer degree programmes independently in India. This, in Mr. Sibal's view, will save millions of dollars as Indian students will be able to study in foreign universities while staying in India. This will also expand the Higher Education offering in India, which will supplement Government's efforts to ramp up the number of seats and the quality of learning. This news was received well in India.
Foreign Universities in India: Who's Coming and Why? - DrEducation: Indian Education Blog, Rahul Choudaha
India to Foreign Universities: Set Up Campus Here
For decades, foreign universities have been an integral part of India's higher education. Whiz kids across the country with the financial means have left for highly regarded global universities to study. Many never return, taking both their tuition money and their talent overseas.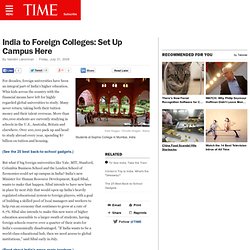 AFTER just one semester, the University of NSW's Singapore campus officially closes its doors tomorrow, an uneasy conclusion to one of the Australian higher education sector's worst business failures. If the legacy of bereft students and angry academics weren't bad enough, other Australian universities offering programs in Singapore fear their reputations as business partners and education providers will suffer as the taint of the collapse spreads. "We are certainly talking to our partners and reassuring them about the fact that we want to stay in Singapore, but I think it is going to make it difficult for any of us working there, in terms of attitudes to what Australian universities are doing," pro vice-chancellor international of Curtin University Kevin McKenna said. But the National University of Singapore president, in Melbourne this week, played down the impact of the closure.
UNSW Singapore campus doomed to fail
University World News - INDIA: Foreign universities - a reality check
With the recent approval of the foreign universities bill by the cabinet, many people interested in Indian higher education are riding a wave of optimism and expecting that there will be a number of highly reputed institutions like Harvard and Yale establishing campuses in India. On the other hand, some people believe this will open the floodgates for poor quality institutions to enter India and take unfair advantage of students. Both these views are extremes and require a dose of reality. In these times of budget cuts and decreasing endowments for universities, there are very few reputed foreign universities that would be willing or able to establish campuses in India.
Table notes Although the headline ranking figures show the changes in the survey year to year, the pattern of clustering among the schools is also significant. A total of 210 points separate the top school from the school at number 100 in the ranking. The top 10 schools, from the London Business School and University of Pennsylvania: Wharton to Iese Business School, form the leading group of world-class business schools. A total of 41 points separate LBS and Wharton from Iese. The second group is headed by the Indian Institute of Management, -Ahmedabad, which scored 69 points more than Lancaster University Management School, leader of the third group. The fourth group, which includes schools ranked from number 74 to 100, is headed by Purdue University: Krannert and University of Strathclyde Business School.
Global MBA Rankings 2011
How to Save India's Overcrowded Schools
On the sprawling campus of Delhi University, the fear in July was as palpable as the excitement. For several weeks, prospective students rushed from college to college desperately combing admission lists for their names. Never before has India offered a better chance at a comfortable life after graduation. But never has getting a seat at one of the nation's universities been so hard.
Will Indian Higher Education Get Freedom from Corruption? - DrEducation: Indian Education Blog, Rahul Choudaha
"A revolution is brewing in the higher education sector with foreign universities waiting for India to open its doors to them .", says The Telegraph in August 2009 and Inside Higher Ed echoed the optimism and prospects of finding " a passage to India " for foreign universities. More than three years later sentiments have reversed with pessimism and frustration overtaking optimism.
India doesn't figure in world top-100 universities