To read
Littéraction.fr | Le site de livres-jeux dont VOUS êtes l'auteur ! Free ePub Converter - Convert PDF and other types of documents & ebooks to ePub format. Science-fiction, fantastique, fantasy : nooSFere, toutes les spheres de l'imaginaire. Grand prix de l'Imaginaire. Un article de Wikipédia, l'encyclopédie libre.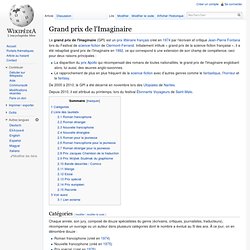 Le grand prix de l'Imaginaire (GPI) est un prix littéraire français créé en 1974 par l'écrivain et critique Jean-Pierre Fontana lors du Festival de science-fiction de Clermont-Ferrand. Initialement intitulé « grand prix de la science-fiction française », il a été rebaptisé grand prix de l'Imaginaire en 1992, ce qui correspond à une extension de son champ de compétence, ceci pour deux raisons principales : De 2000 à 2010, le GPI a été décerné en novembre lors des Utopiales de Nantes. The Adventures of Augie March | All-TIME 100 Novels.
Welcome to the massive, anguished, exalted undertaking that is the ALL TIME 100 books list.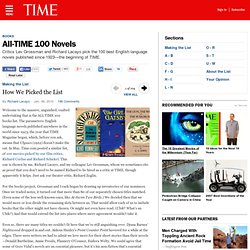 The parameters: English language novels published anywhere in the world since 1923, the year that TIME Magazine began, which, before you ask, means that Ulysses (1922) doesn't make the cut. In May, Time.com posted a similar list, of 100 movies picked by our film critics, Richard Corliss and Richard Schickel. This one is chosen by me, Richard Lacayo, and my colleague Lev Grossman, whom we sometimes cite as proof that you don't need to be named Richard to be hired as a critic at TIME, though apparently it helps.
Just ask our theater critic, Richard Zoglin. Le top du polar (selon moi) Les Pages SF - Littérature de science-fiction. Les Pages SF Littérature de science-fiction N'hésitez pas à envoyer vos commentaires, vos réflexions ou vos propres critiques de livres sur branchum@club-internet.fr L'essentiel : si vous êtes perdus en ces lieux ou si vous avez besoin de connaître les œuvres de référence à lire absolument dans le domaine, voici une première liste qui vous permettra de vous y retrouver.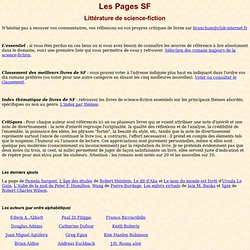 Sélection des romans majeurs de la science-fiction. Classement des meilleurs livres de SF : vous pouvez voter à l'adresse indiquée plus haut en indiquant dans l'ordre vos dix romans préférés (ou voter pour une autre catégorie en élisant les cinq meilleures nouvelles). Listes par Kallisthène. Uchronies: l'histoire divergente. Polar. Top 100 Science-Fiction, Fantasy Books. More than 60,000 ballots were cast in our annual summer reader's survey — click here to see the full list of 100 books, complete with links and descriptions.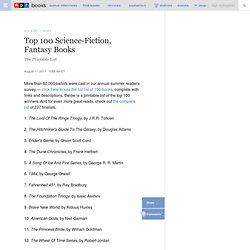 Below is a printable list of the top 100 winners. And for even more great reads, check out the complete list of 237 finalists. 1. The Lord Of The Rings Trilogy, by J.R.R.
---