Management
I'm not a totalitarian when it comes to words. I've got strong opinions on the subject, some of which are below, but heck, it's your voice. Use the words you want to use. And remember that it is, in fact, your voice.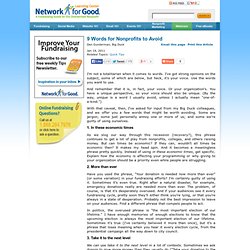 9 Words for Nonprofits to Avoid in 2011 | Network for Good Learning Center - Learn how to raise money online for your nonprofit
Get off the Couch – Wayne Elsey's Blog » Blog Archive » Top 10 excuses nonprofit leaders make
One of my new favorite blogs to read is Copyblogger. In true form, "What's your excuse for not achieving your goals?" doesn't disappoint when it comes to pointing out the obvious and telling it like it is. Reading through his list reminded me of the many excuses I hear from nonprofit leaders I interact with around the world. (And even some that I find myself making at times.)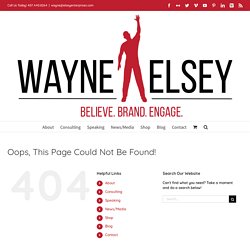 tp://blogs.hbr.org/bregman/2011/01/the-best-way-to-use-the-last-f.html
Get off the Couch – Wayne Elsey's Blog » Blog Archive » Criticism: the dark side of leadership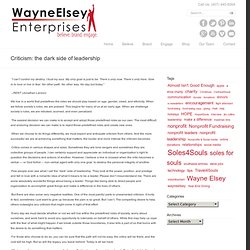 "I can't control my destiny. I trust my soul. My only goal is just to be. There's only now. There's only here.
Kolbe.com
wisdomoftheages.pdf (application/pdf Object)