Writing
Website Review - SEO Tool | WooRank.com. Compress PDF – Reduce your PDF Online for Free. The Beginner's Guide To Freelance Writing. "The Big Idea" Okay.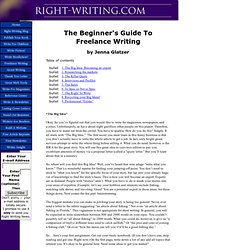 So you've figured out that you would like to write for magazines, newspapers, and e-zines. WritersWeekly.com. Finding The Best Freelance Writing Jobs. Create a free accountJoin Calaméo to publish and share documents with the world!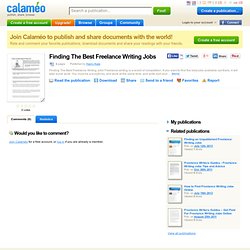 Rate and comment your favorite publications, download documents and share your readings with your friends. 2 pagesPublished byHarry Katz Finding The Best Freelance Writing Jobs Freelance writing is a world of competition. If you want to find the best jobs available out there, it will take some work. You must be a busybody, and work at the same time, and write well and market yourself effectively. Freelance Writing - A Quick Overview. By Mridu Khullar If learning about new things on a daily basis excites you, working with words and sentences is second nature and your wife has banned you from reading promotional material in order to stop you from pointing out grammatical inaccuracies, freelance writing may just be the career for you.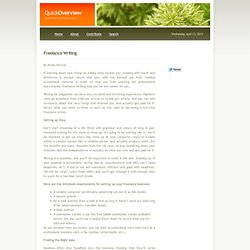 Writing for magazines can be a very lucrative and enriching experience. Payment rates go anywhere from $100 per article to $4,000 per article, and you can talk to experts about the very things that interest you, and actually get paid for it! Here's what you need to know to start on the path to becoming a full-time freelance writer. How to make money with online writing. In making money online as a freelance writer, my career has changed over the years due to the changes in my skills and changes in the Internet.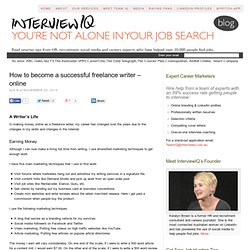 Earning Money Although I can now make a living full time from writing, I use diversified marketing techniques to get enough work. Writing links: Interesting sites for writers. Writer MarketsZealingMoney.com | ZealingMoney.com. Fiction Writer's Connection - Information on getting published, novel book writing, and finding agents. Is This Cheating? eBook Market Discovery Technique. The e-Writer's Place - resource for writers, free e-zine on the craft of writing. Home Writing Channels: Freelance Writing Channel: Freelance WritingChannel Manager: Mars W.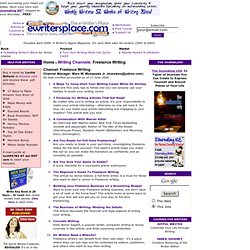 Mosqueda Jr. (marswoo@yahoo.com)All links verified accessible as of 13 June 2004 5 Ways To Jump-Start Your Writing Career While On Holiday Here are five easy tips to follow and you can actually use your holiday to boost your writing career. 7 Formulas for Writing Articles That Get Read! Writing Tips For Writing A Book & Other ePublishing Adventures! Niche Marketing Ideas. Subjects to write about Adult movies: This could be a tricky one because if you are too specific it could get your page banned.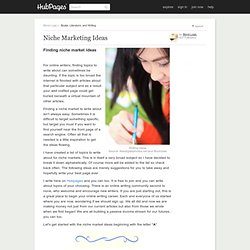 Suggest methods for making a film, but keep your language clean. Or suggest places to buy these films. How this type of film genre has changed through the years perhaps. Finding jobs, work, & employment — online job search: WebLens search portal. Custom Search When searching the sites below, test different query words and spellings since job titles can vary.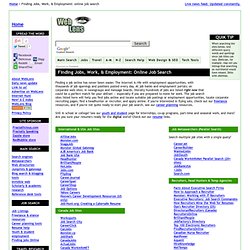 Dietician, for example, may net you listings that searching on nutritionist would have missed. Cat Rambo - Finding Markets For Stories. Recently, John Scalzi wrote about Black Matrix Press's pay rates and it's led to a lot of discussion about pay rates and publications.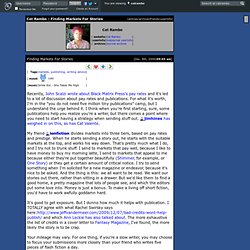 For what it's worth, I'm in the "you do not need five million tiny publications" camp, but I understand the urge behind it. I think when you're first starting, sure, some publications help you realize you're a writer, but there comes a point where you need to start having a strategy when sending stuff out. jimhines has weighed in on this, as has Cat Valente. My friend lonfiction divides markets into three tiers, based on pay rates and prestige. The Writer's Database: Market and Submission Tracker. Finding Markets and Adapting to Change. Your Writer's Radar - Finding Markets and Adapting to Change by Marg McAlister Several writers have emailed me asking about markets for their writing - both fiction and non-fiction.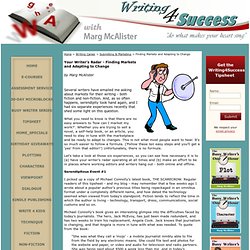 And, as so often happens, serendipity took hand again, and I had six separate experiences recently that shed some light on this question. Open More Opportunities with Freelance Writing Jobs. Finding Hungry Markets: How to find a hungry market of buyers. Make no mistake; there are literally thousands of potential tightly niched "hungry markets" out there.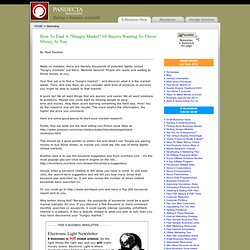 Markets abound! People are ready and waiting to throw money at you. Your first job is to find a "hungry market" - and discover what it is the market wants. Then, and only then, do you consider what kind of products or services you might be able to supply to that market. Scripta Word Services Editing and Writing - Finding Markets. Article # 7 in the "Getting Started in Fiction" series © Marg Gilks "At 20 I worked briefly on an offshore oil exploration rig in what was called the oil patch, 10 days on and 5 days off. I rented a mailbox at the post office, mailed off my stories to various magazines before going offshore, then found the rejections waiting for me when I returned. I gave myself 36 hours to put the manuscripts back in the mail, and I've maintained the same system all these years, because to keep the work at home is to ensure its failure. " – James Lee Burke You've written a story you're proud of, one you want others to read, one for which you'd even like to be paid.
How To Find Foreign Writing Markets. February 25, 2002 How To Find Foreign Writing Markets by Gary McLaren © Copyright 2002 Gary McLaren Writing for foreign writing markets is a great way to increase your income as a freelance writer. The highest fee a writer receives for any article is often the fee paid by a publication for First Rights. So there is a windfall to be received if you can successfully sell, for example, First North American Serial Rights and then go on to sell First British Serial Rights, First Australasian Serial Rights and others.
Fifteen Paying Markets for Personal Essays and Life Stories. By Chryselle D'Silva Dias Editor's Note: Market list updated January 2010 - sorry, it's no longer 15! Writing nonfiction, the experts say, is often the easiest way for a writer to break into print. 5.0 How do I find a market for my manuscript? (misc.writing Writing FAQ) This article is from the misc.writing Writing FAQ, by Wendy Chatley Green wcgreen@cris.com with numerous contributions by others. Go to the library and read the current _Writer's Market_ published by Writer's Digest Books. It will tell you which magazines and books are reading unsolicited submissions, and what types of manuscript each market is particularly eager for. Get Published - 50 Online Writing Websites for New Writers. Looking for paying writing gigs? Wondering how to get your name into print? This article offers up a list of 50 websites that will help you get published and find markets for your writing.
Advice on How to Get Published About Freelance Writing - The About.com Guide to Freelance Writing covers the basics of freelancing and offers advice on how to find markets and get published online and in print. How to Find Writing Jobs and Paying Markets. 20 Ways to Become a Better Writer. How I Taught Myself to Code in Eight Weeks. 10 Websites that Teach Coding and More. How to Develop a Daily Writing Habit. Nine all-purpose plugins for Vim.
Creative writing. How to Convert RSS Feeds into EPUB files with Calibre. Information Center. Ebooks.
---