Minnesota Online Marketing Companies
TopRank Online Marketing Agency - Social Media SEO & Content Marketing Services
Search Engine Optimization, SEO, Duluth, Minnesota, MN, Internet Marketing, Strategy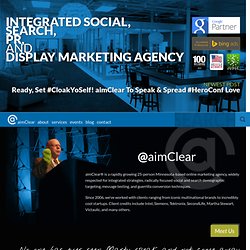 aimClear presents Our agency is known for bleeding-edge creative tactics and a holistic approach to integrating social media, search, and PR channels. Our process and tools for mapping "whole users" to social and search, using both paid and organic tactics, has proven revolutionary for B2B and B2C sales, lead generation, community building, and other key performance indicators (KPIs). Our proprietary predictive modeling software makes setting goals scientific in largely unpredictable multi-channel environments.
Online Marketing, Search Marketing | Three Deep Marketing, St. Paul MN
WestmorelandFlint
SwimCreative - A Creative, Marketing, and Web Development Firm in Duluth Mn.
H. T. Klatzky helps intergrated health systems, hospitals and clinics increase profitability.
The JPG Group
3five // Web + Mobile Design & Development
Work: Research, Planning, Web Design, Drupal Development, Content Strategy, Copy Work: Strategy, Web Design, WordPress Development, Maintenance, Consulting, Video Production Work: Shopify E-Commerce Responsive Design & Development, Consulting, Ongoing Maintenance Work: Shopify E-Commerce Responsive Design & Development, Custom Shopify Registry App, Ongoing Maintenance Work: WordPress Golf-Specific Framework Design & Development, Responsive | *Note this project is a demo site used to sell other sites like it to numerous golf courses. This is not an actual golf course.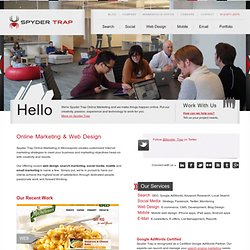 Spyder Trap Online Marketing in Minneapolis creates customized Internet marketing strategies to meet your business and marketing objectives head-on with creativity and results. Our offering covers web design, search marketing, social media, mobile and email marketing to name a few. Simply put, we're in pursuit to have our clients achieve the highest level of satisfaction through dedicated people, passionate work and forward thinking. Our Recent Work Our Services
Online Marketing Agency - Minneapolis, MN | Spyder Trap Online Marketing
We've outgrown seven offices since we started in 2003 and are bursting at the seams with technical experts because we've faithfully pursued our vision: be the best place in the world for nerds to work. It comes naturally to us, being founded by three programmers, to make a nerd-friendly environment – that's what we've done for our hundreds of employees. Sure, we have a dog-friendly workplace, a perpetual chess tournament and a 250-seat Rock Band venue, but the most critical ingredient in keeping an army of technical geniuses happy (other than caffeine) is compelling problems to solve. Luckily, our unique business model ensures that we never run short on interesting problems to sink our teeth into. Our partners do strategy and content. We do data and code.
The Nerdery | An Interactive Production Company: Better Interactive Development Through Science