Technology
Russian space experts called in to examine 200-kilo 'UFO fragment' which fell from the sky in Siberia. Six foot metal fragment fell near remote village in SiberiaDoes not appear to be from earthly missiles or rocketsRussian space experts say, 'The object is not related to space technology'Under police guard as experts examine it By Will Stewart Published: 16:00 GMT, 21 March 2012 | Updated: 23:40 GMT, 21 March 2012 Space experts are trying to solve the mystery of 'a UFO fragment' which crashed close to a village in Siberia.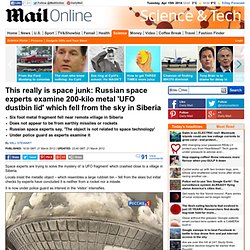 Locals insist the metallic object – which resembles a large rubbish bin – fell from the skies but initial checks by experts have concluded it is neither from a rocket nor a missile. Amazing 3D printer in action: Watch a working wrench being printed from powder. By Ted Thornhill Published: 11:45 GMT, 20 March 2012 | Updated: 18:54 GMT, 20 March 2012 We're going to need a lot of tools as we expand into space – to build and maintain space stations and craft.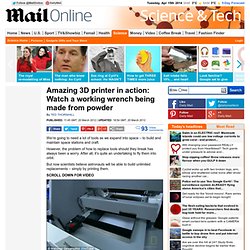 Felix Baumgartner space jump 2012: Austrian daredevil taking skydiving to new heights. By Daily Mail Reporter Published: 02:03 GMT, 16 March 2012 | Updated: 02:44 GMT, 17 March 2012 With New Mexico 13.6 miles below, daredevil skydiver Felix Baumgartner needs some space-age help before he even thinks about jumping.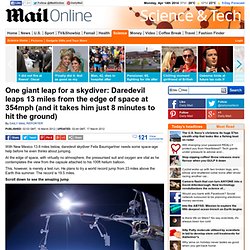 U.S. military unveil latest weapon... A ray beam that makes the enemy feel 'quite hot' The nonlethal weapon, which can be mounted on a military vehicle, is primarily designed for crowd controlWeapon has been tested on more than 11,000 people, and in just two of those cases, it caused second-degree burns By Jill Reilly Published: 20:35 GMT, 11 March 2012 | Updated: 18:23 GMT, 12 March 2012 The US military have unveiled their infamous non-lethal weapon - an electromagnetic beam of fierce heat.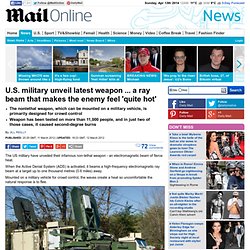 When the Active Denial System (ADS) is activated, it beams a high-frequency electromagnetic ray beam at a target up to one thousand metres (0.6 miles) away. Mystery: U.S X-37B space plane has been in orbit for over a year. The X-37B has been circling the Earth at 17,000mph and was due to land in California in December By Ted Thornhill Updated: 18:36 GMT, 8 March 2012 The U.S Air Force's highly secret unmanned space plane was supposed to stay in space for nine months, but it's now been there for a year and three days – and no one knows what it's doing.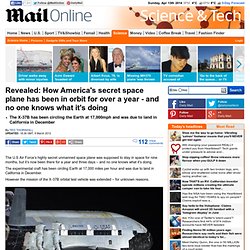 Stratocam: Google Earth mash-up allows users to find the best aerial photographs of the planet. By Eddie Wrenn Published: 14:20 GMT, 15 March 2012 | Updated: 08:30 GMT, 16 March 2012 A website which combines Google Earth with a simple ratings system allows users to find the most beautiful or unusual places on our planet.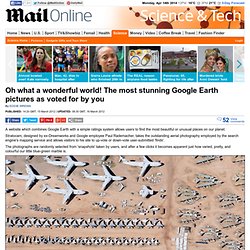 ---