Tutorials
Get flash to fully experience Pearltrees
Adobe Photoshop is a perfect tool to add flare to images and give them some nice effects which increase the beauty of that image.
Need to take photos, pictures of any object or product, then you might not get good result taking it in front of a white screen, cloth because it won't be 100% white like in professional magazines etc. Here is an interesting free online tool that lets you enhance your white background photos by making the background completely white. This is great for the photographs of stones, items, products, food etc especially for thumbnails for for review sites. Tip : Remove Background in Photos- Extract People, Objects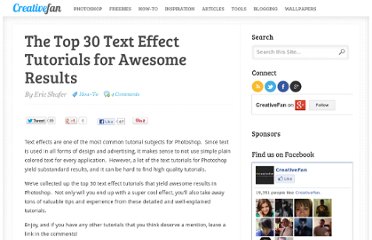 Text effects are one of the most common tutorial subjects for Photoshop.
Tutorials can often be your greatest source of inspiration. Sometimes, you may find it difficult to look for some of the highest quality Photoshop tutorials using search engines. There's so many tutorials available, but only a handful offer inspiration along with valuable tips and techniques.
A few weeks ago I shared a free high resolution photoshop brush set with my readers. Today I am going to show you how to create that brush set in 5 easy steps. We will be using both Illustrator and Photoshop to create very high rsolution, clean vector images for the brush.
Last week I was watching the opening credits of "I'm a Celebrity, Get Me Out of Here" and I noticed the titles consist of bling bling text getting dropped into the jungle.