The idea mine
EBAY TOOLBOX: 50+ Tools for eBay Buyers and Sellers. We recently gave a preview of Auctomatic, a new set of "auction tools 2.0" that's funded by the creator of Gmail.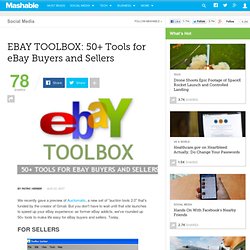 But you don't have to wait until that site launches to speed up your eBay experience: as former eBay addicts, we've rounded up 50+ tools to make life easy for eBay buyers and sellers. Today. Turbo Lister - eBay's free listing tool that allows you to customize your listings, upload and edit items in bulk and manage your auctions. Аксессуары для iМаньяка: телефон для iPhone и яблочный USB-хаб. Да что мы всё про наушники, чехлы да сумки!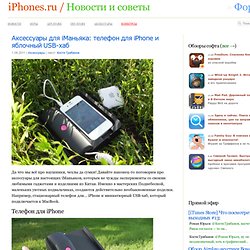 Давайте наконец-то поговорим про аксессуары для настоящих iМаньяков, которым не чужды эксперименты со своими любимыми гаджетами и изделиями из Китая. Именно в мастерских Поднебесной, маленьких уютных подвальчиках, создаются действительно необыкновенные поделки. Например, стационарный телефон для… iPhone и миниатюрный USB-хаб, который подключается к MacBook. The 100 Best Android Apps. On this page, you will find the best Android apps for all your needs.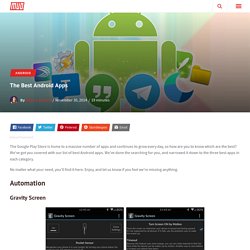 We've taken the effort to categorize the apps and picked only those we believe to be the best ones and which will most likely be useful to you. A handy automation utility, less versatile than Tasker, but free. 15 Mobile Retail Apps that Enhance Customer Experiences. Retail businesses are building mobile apps that do much more than just display products for sale.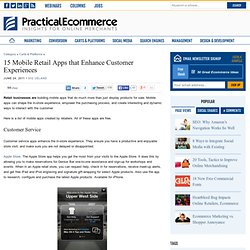 Mobile apps can shape the in-store experience, empower the purchasing process, and create interesting and dynamic ways to interact with the customer. Here is a list of mobile apps created by retailers. All of these apps are free. Customer Service. SKYPE TOOLBOX: 50+ Enhancements for Skype. As the VoIP service of choice for tens of millions of people, Skype has spawned a robust developer community, with programmers and entrepreneurs building hundreds of applications that look to piggy back on the service's enormous success.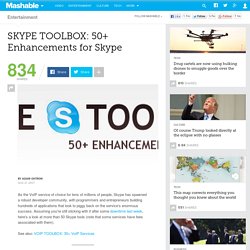 Assuming you're still sticking with it after some downtime last week, here's a look at more than 50 Skype tools (note that some services have fees associated with them). See also: VOIP TOOLBOX: 30+ VoIP Services Personalization & Customization. SHOPPING SPREE: 18 Sites for Social Shopping & Deals. Kaboodle was snapped up this week, but there are at least 17 other social shopping startups and sites worth checking out.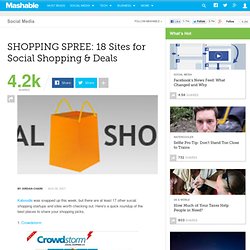 Here's a quick roundup of the best places to share your shopping picks. 1. Crowdstorm Crowdstorm is an innovative social shopping service using product buzz in the blogosphere to help you find what to buy. Travel Toolbox: 75+ Online Travel Resources. If you're in the Northern Hemisphere, there's still time to enjoy a summer vacation.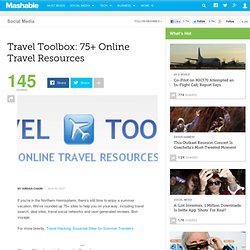 We've rounded up 75+ sites to help you on your way, including travel search, deal sites, travel social networks and user-generated reviews. Bon voyage. For more brevity, Travel Hacking: Essential Sites for Summer Travelers Fare Finders/ Search Engines. VOIP TOOLBOX: 30+ VoIP Services. You can't have failed to notice that Skype suffered major downtime this week.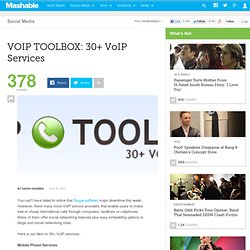 However, there many more VoIP service providers that enable users to make free or cheap international calls through computers, landlines or cellphones. Many of them offer social networking features plus easy embedding options in blogs and social networking sites. Here is our take on 30+ VoIP services. MOBILE PRODUCTIVITY TOOLBOX: 45+ Mobile Productivity Resources. In the fast paced world, we're constantly trying to improve our productivity, but it can get hard when you're on the move.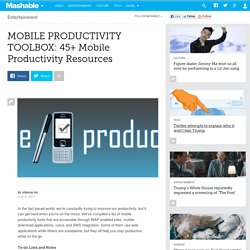 We've compiled a list of mobile productivity tools that are accessible through WAP enabled sites, mobile download applications, voice, and SMS integration. Some of them use web applications while others are standalone, but they all help you stay productive while on the go. To-do Lists and Notes Stikkit - Web application used to organize your daily details. Stikkit's integration with Mobivity allows you to create and retrieve your Stikkets from your Stikkit account via SMS.Remember The Milk - Task management web application where you can interact with your RTM task lists via 2-way SMS using twitter.Jott - Call and leave yourself or anyone on your contact list a note.
Lazerpoint. Does Lazerpoint.com offer free shipping service to any product?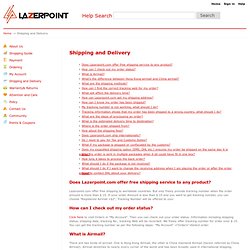 Lazerpoint.com offer free shipping to worldwide countries. But only freely provide tracking number when the order amount is more than $ 15.
Top 10 FREE Data Recovery Software » Raymond.CC Blog. Top +20 Free and open-source software is good for you « Do You Know: www.Share4Vn.com ? A Perfectionist's Guide to Audio CD Extraction and Lossless Comp. This document is a short guide to Audio CD extraction and lossless compression using Exact Audio Copy (EAC) [EA01], AccurateRip [AR01] and Free Lossless Audio Codec (FLAC) [FL01]. It contains an installation instruction for all required software components and gives a comprehensive overview of all options that need to be set for the perfect audio CD rip.
Furthermore it describes the actual extraction process and finally provides some information on problems and errors. There are many other other audio CD extraction/backup guides, such as [HA01] or [HA02], that describe the extraction process and all necessary software settings. This documents is mostly based on these guides but adds some personal preferences and suggestions. Introduction » Exact Audio Copy. MPEG StreamClip - Video software and downloads. Great! I struggled for hours trying to assist my youngest daughter who recorded some video for a school project. First, I exported the VRO file to disk. Error Goblin. BOOKS TOOLBOX: 50+ Sites for Book Lovers. Lulu, a book publishing site, is in the news this week. But there are many more sites for book reviews, self-publishing and exchange. Here are more than 50 of our favorites. Disclosure: Lulu currently has an ad campaign running on Mashable.
Book Reviews Amazon.com - Search from thousands of books, buy them online and read excellent reviews. 70 Things Every Computer Geek Should Know. | Arrow Webzine. The term 'geek', once used to label a circus freak, has morphed in meaning over the years. What was once an unusual profession transferred into a word indicating social awkwardness. As time has gone on, the word has yet again morphed to indicate a new type of individual: someone who is obsessive over one (or more) particular subjects, whether it be science, photography, electronics, computers, media, or any other field.
---