Single Purpose Sites
CorridorDigital's Channel
Obsolete
WikiBombs
Alright, so it's time to come clean.
Big news from the main man.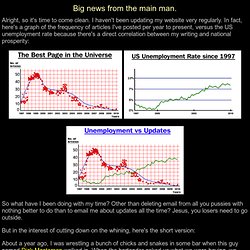 Geocities-izer - Make Any Webpage Look Like It Was Made By A 13 Year-Old In 1996
The Absolute Funniest Posts!
Latest Images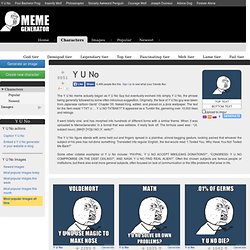 Y U No
The Y U No meme actually began as Y U No Guy but eventually evolved into simply Y U No, the phrase being generally followed by some often ridiculous suggestion. Originally, the face of Y U No guy was taken from Japanese cartoon Gantz' Chapter 55: Naked King, edited, and placed on a pink wallpaper. The text for the item reads "I TXT U … Y U NO TXTBAK?!" It appeared as a Tumblr file, garnering over 10,000 likes and reblogs. It went totally viral, and has morphed into hundreds of different forms with a similar theme.
My Face When - Reaction Faces Database
Cleverbot.com - a clever bot - speak to an AI with some Actual Intelligence?
Flip
Crazy THINGS PARENTS TEXT ™
Badass of the Week
Instant spaaaaaaaaaaaaaaaaaaaaaaaccee
HORSE HEAD HUFFER
Cake Wrecks
Sexy Chivers returns tomorrow, submit your photos!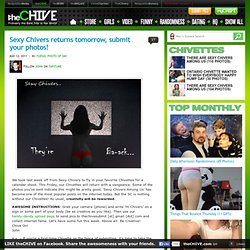 Follow John on Tapiture
TWSSstories.com | That's What She Said Stories & Jokes
subreddit
Free Apps and Games What is WoahDude? The best links to click while you're stoned!
Single Topic Blogs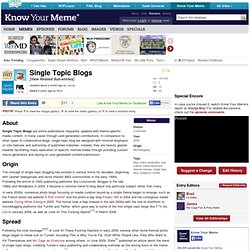 About Single Topic Blogs are online publications frequently updated with theme-specific media content, in many cases through user-generated contributions.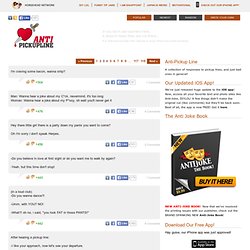 Anti-Pickup Line - Pickup Line Responses
A collection of responses to pickup lines, and just bad ones in general!
WikiBombs
Funny Anti Jokes
Live the Sheen Dream
Sleeveface - people holding vinyl record sleeves and covers in front of their faces
PopChartLab_Superpowers_FinalFinal-Large.jpg (1308×1734)