Mac
There are reports that Mac OS X Lion will be released in the coming days and here is all you need to know about creating a boot disk to install Lion from a physical media source. When released, Lion will only be available for download and install from Apple; no physical disks will be offered for purchase. But, if you're like me and want to keep a disk, there's a straightforward method that will work when you download Lion. For anyone who knows their way around Finder, it's a very simple method; all you need is a DVD to burn to and you're good to go.
How To Make An OS X Lion Boot Disk ~ LockerGnome Craighton's Logic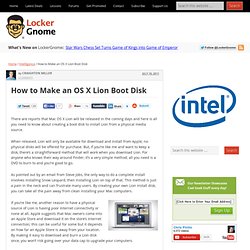 Five Must-Have Apps for a Mac ~ LockerGnome OS X Fanatics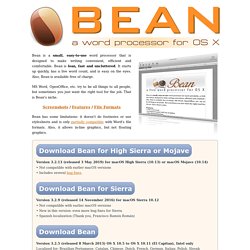 Download Bean Version 3.2.5 (released 8 March 2013) OS X 10.5+, Intel only • Please note that Bean is no longer being actively developed . New in this version: a bugfix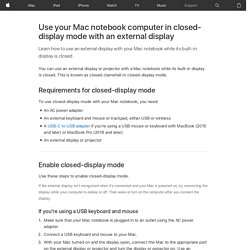 Portables: How to use your computer in closed clamshell (display closed) mode with an external display
The following Mac notebooks support the use of an external display or projector while the internal display is closed: MacBook Pro MacBook PowerBook G4 MacBook Air This is known as "closed clamshell" or "closed display" mode.
You are invited to take part in a short survey to help us improve your Apple Support online experience. Please click Yes if you would like to participate. Yes
4 Help: Calibrating a MacBook or MacBook Pro battery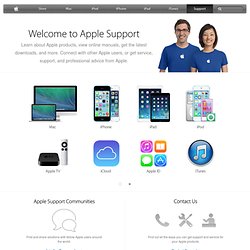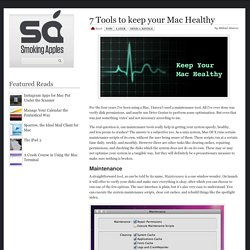 For the four years I've been using a Mac, I haven't used a maintenance tool. All I've ever done was verify disk permissions, and maybe use Drive Genius to perform some optimisation. But even that was just something 'extra' and not necessary according to me.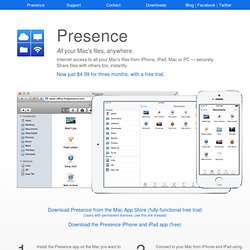 FarFinder: Mac Remote Access by web browser and iPhone
Install Presence on the Mac you want to access. Connect to your Mac using the iPhone and iPad app . Connect to your Mac by web browser from any Mac or PC, like this: http://johnsmith.findpresence.com Share files with others by just sending them a link. No uploading, no need for USB drives, no guessing what you might need later. For you, secure access to your whole Mac.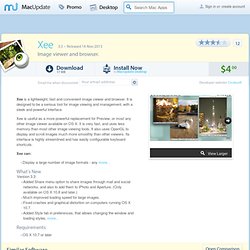 Xee 2.0 - MacUpdate
Image viewer and browser. Free Xee is a lightweight, fast and convenient image viewer and browser. It is designed to be a serious tool for image viewing and management, with a sleek and powerful interface. Xee is useful as a more powerful replacement for Preview, or most any other image viewer available on Mac OS X. It is very fast, and uses less memory than most other image viewing tools.
50+ Mac Applications with Great Interface Advertisements Having used Mac for quite some time, I discover that I deeply fall in love with smooth and sleek interface offered by most of Mac built-in applications. And the good news is, there are many third-party applications out there developed with more or less the same design standard as those built-in Mac apps. More than fifty sample screenshots of beautiful Mac applications are ready to amaze you after the jump. Productivity Tools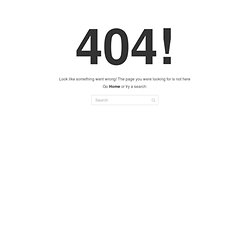 Mac Tricks and Tips, Wallpapers and Applications for Mac Users
Top 10: Top 10 Mac OS X tweaks - Lifehacker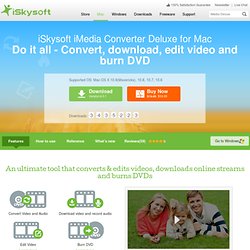 DVD-Library for Mac - Catalog, manage and backup DVDs on Mac, Build your own DVD library on Mac OS X Leopard and Snow Leopard
Why Choose iMedia Converter Deluxe for Mac Want an ultimate multimedia solution for your digital life on Mac? iMedia Converter Deluxe is an all-in-one multimedia toolkit to helps you play videos and DVDs anywhere.
Products Comparison: DVD Ripper for Mac, Video Converter for Mac
Everyone loves free applications. One of the greatest things about Macs is the wealth of extremely talented developers that are willing to share their amazing creations without asking for a single cent. We've compiled an enormous list of 100 amazing free Mac applications that you can download and start using today.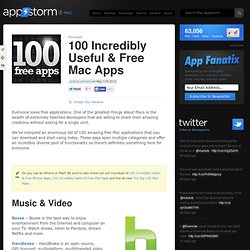 4 Help: Calibrating a MacBook or MacBook Pro battery
Camouflage
Buy now for only $5.99 — Follow us at Twitter: Join us on Facebook: If you have a cluttered Desktop and just don't want to see your icons, or you just want to give a presentation and don't want your audience to see your desktop icons, Camouflage will help. Sitting in the menu bar, Camouflage is easily accessible and can be quickly used to hide your desktop icons. For extra speedy access you can also configure a HotKey to show and hide your icons. If there're just too many icons on your Desktop to have any overview over them, just hide them away with Camouflage and double-click your desktop to open a new Finder-Window for your Desktop-folder.
Quicksand Reorder and filter items with a nice shuffling animation. Activity Monitor 348 KB Address Book 1904 KB Finder 1337 KB Front Row 401 KB Google Pokémon 12875 KB iCal 5273 KB iChat 5437 KB Interface Builder 2764 KB iTuna 17612 KB Keychain Access 972 KB Network Utility 245 KB Sync 3788 KB TextEdit 1669 KB
iPhone: When Your iPhone Falls in the Toilet, a Beer Mug or Pile of Snow
If you take your smartphone with you everywhere you go, you may one day find yourself rescuing it from a puddle or fishing it out of the bottom of a pool. Don't panic. Water damage is a bad thing, but if you take the right steps -- either on your own or by turning it over to a trusted professional -- your phone can likely be repaired. Memo to Digital Marketers: Be Strategic and Prove the ROI 5 ways that e-commerce marketers can support and defend their digital media spends, by showing demonstrable returns and business impact.
Design an Apple iMac to Showcase your Portfolio | Bloom Design Blog
Learn how to design an Apple iMac showcasing your work in Photoshop! Final Result 1. Create a new document that's 580×700 pixels. Get the rounded rectangle tool and draw a shape like below. 2.
The wait is finally here. The product that created so much hype, likes as well as dislikes from many has finally arrived at the US stores and soon it would be a worldwide phenomenon. However, the controvesial topic of the iPad would barely cease even after it has been launched.
Mac Tricks and Tips, Wallpapers and Applications for Mac Users
Chmox - a Mac OS X CHM viewer
DVD Ripper for Mac Review - The best review of DVD Ripper for Ma