iPhone
The iPhone Thread. ISL: Remote Access Computers Via iPhone. Lots of solutions let you remotely view a computer using your smartphone, but almost all of them are tied to a specific operating system.
ISL lets you remotely support Windows, Mac and even Linux computers using your iPhone/iPod or iPad. ISL works based on unique sessions and a session code is required to join an existing session. ISL is a great way to provide remote technical support to your clients. 4 Reasons Not To Jailbreak Your iPhone, iPod Touch Or iPad. We love jailbreaking our iPhones, iPod touches, and iPads because it opens up it opens up so many great new possibilities.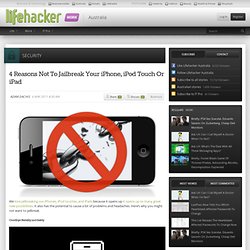 It also has the potential to cause a lot of problems and headaches. Here's why you might not want to jailbreak. Goodbye Stability and Safety. The iPhone Thread. 50 Free iPhone and iPad Apps for College Students - Mac, iPhone, iPad Tips and How-Tos - WoowooMac. College students can use all and help they can get.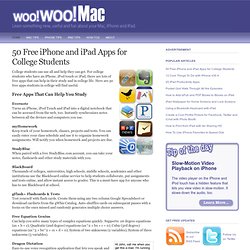 For college students who have an iPhone, iPod touch or iPad, there are lots of free apps that can help in their study and in college life. Here are 50 free apps students in college will find useful. Free Apps That Can Help You Study EvernoteTurns an iPhone, iPod Touch and iPad into a digital notebook that can be accessed from the web, too. DIY - Replace Your iPhone's Battery. If nothing I posted yesterday will work in prolonging your iPhone's battery life, there are always other measures you can take.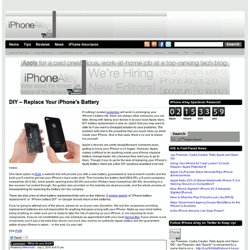 Along with taking your device in to your local Apple store, DIY battery replacement is also an option that you may want to refer to if you want a cheap[er] solution to your problems. The problem with is the possibility that you could mess up while inside your iPhone. And in that case, there's no one to blame but yourself. Apple's devices are pretty straightforward: hardware-wise, getting to know your iPhone is no biggie. However, Apple makes it difficult to do anything inside your iPhone (replace battery, change bezel, etc.) because they want you to go to them. Reminder: iPhone 4 Warranties Are Ending Right About Now. If you were part of the millions who purchased an iPhone 4 around its June 24 launch in last year, you were probably going to repeat the "early adopter" act for its successor.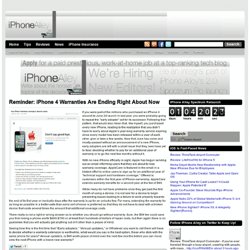 Following that pattern, that would also mean that, like myself, you purchased every new iPhone, leading to the realization that you didn't have to worry about Apple's year-long warranty service expiring since every model has been released within a year of each other, give or take a few weeks. Now that June has come and mostly-passed without an announcement of a new iPhone, early adopters are left with a small issue that they (we) have yet to face: deciding whether to pay for an additional year of warranty or to go the next few months without it.
With no new iPhone officially in sight, Apple has begun sending out an email informing users that they are about to lose warranty coverage.
---