Google
The Top 3 Free Offline GPS Apps For Android. Google Navigation for Android is one of the best map solutions you can get in the palm of your hand, but what if you don't have a data connection?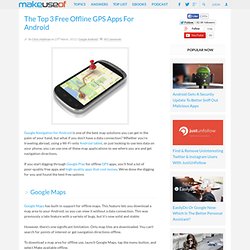 Whether you're traveling abroad, using a Wi-Fi-only Android tablet, or just looking to use less data on your phone, you can use one of these map applications to see where you are and get navigation directions. If you start digging through Google Play for offline GPS apps, you'll find a lot of poor-quality free apps and high-quality apps that cost money. We've done the digging for you and found the best free options Google Maps. AndroidUsersGuide-2.3.4.pdf (application/pdf Object) 3 Successful Google+ Pages and Why They Work. Have you created a Google+ page for your business?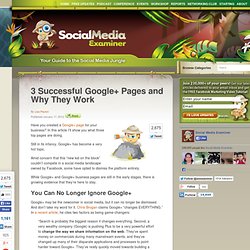 In this article I'll show you what three top pages are doing. Still in its infancy, Google+ has become a very hot topic. Docs Templates. Experience The Minecraft Game For Free In Your Browser With Minecraft Classic. As far as Indie games go, Minecraft (other Minecraft articles: multiplayer guide, featured communities, paid alternatives, and Android release) has been getting all of the buzz lately.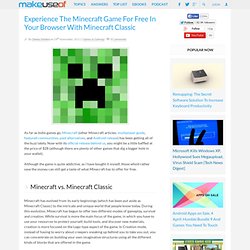 Now with its official release behind us, you might be a little baffled at the price of $28 (although there are plenty of other games that dig a bigger hole in your wallet). Although the game is quite addictive, as I have bought it myself, those who'd rather save the money can still get a taste of what Minecraft has to offer for free. Walkaround - Wave on App Engine. Walkaround is a variant of Wave, based on the Apache Wave code base, that runs on App Engine.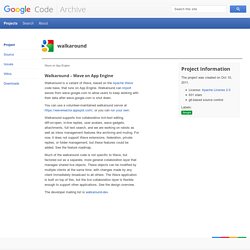 Walkaround can import waves from wave.google.com to allow users to keep working with their data after wave.google.com is shut down. You can use a volunteer-maintained walkaround server at or you can run your own. Walkaround supports live collaborative rich-text editing, diff-on-open, in-line replies, user avatars, wave gadgets, attachments, full text search, and we are working on robots as well as inbox management features like archiving and muting. For now, it does not support Wave extensions, federation, private replies, or folder management, but these features could be added. See the feature roadmap.
Wave - Welcome to Apache Wave (incubating) Wave is a distributed, near-real-time, rich collaboration platform that allows users to work together in new and exciting ways.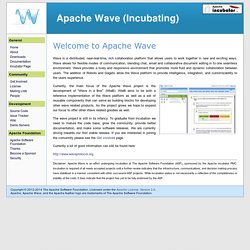 Wave allows for flexible modes of communication, blending chat, email and collaborative document editing in to one seamless environment. Wave provides a lively and responsive environment that promotes more fluid and dynamic collaboration between users. Google Wave Federation Protocol. Code - Google Wave Federation Protocol. We are in the process of moving the code and associated documentation to the Apache infrastructure.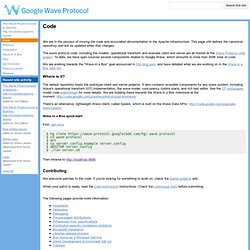 This page still defines the canonical repository and will be updated when that changes. The wave protocol code, including the models, operational transform and example client and server are all hosted at the Wave Protocol code project. To date, we have open sourced several components related to Google Wave, which amounts to more than 200K lines of code. We are working towards the "Wave in a Box" goal announced in this blog post, and have detailed what we are working on in the Wave in a Box task list. Where is it? Oops! Google Chrome could not connect to drop.io. Go Launcher Apk.
Mike Elgan - What Marketers Need to Know About the Google+ of Tomorrow. Doodles: 2011 July - September. Retro Games: Grab A Classic For Free With These 6 GOG Downloads [Windows] Good Old Games, or GOG for short, is a service that specialises in charming retro games of years gone by.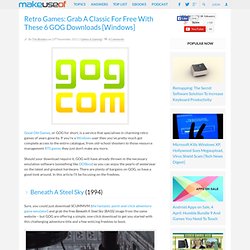 If you're a Windows user then you've pretty much got complete access to the entire catalogue, from old-school shooters to those resource management RTS games they just don't make any more. Should your download require it, GOG will have already thrown in the necessary emulation software (something like DOSbox) so you can enjoy the pearls of yesteryear on the latest and greatest hardware. There are plenty of bargains on GOG, so have a good look around. In this article I'll be focusing on the freebies. GMAIL TOOLBOX: 60+ Tools For Gmail. With Google announcing the ability to increase your Gmail storage capacity this week, we decided to delve into other ways to extend and enhance Google's popular webmail service.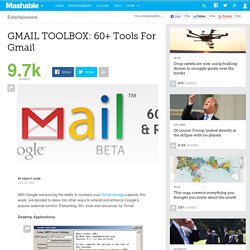 Presenting: 60+ tools and resources for Gmail. Desktop Applications GCount - An application for Mac OSX that alerts you to new mail. Understanding 'Traffic Sources' in Google Analytics. The Google Analytics "Traffic Sources" section can help ecommerce marketers understand how well campaigns are working and how better to invest in site content, advertising, or other forms of engagement.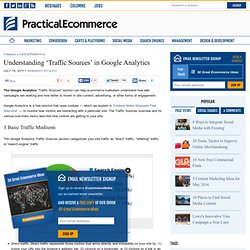 Google Analytics is a free service that uses cookies — which we explain in "Cookies Make Shoppers Feel Welcome" — to monitor how visitors are interacting with a particular site. The Traffic Sources overview and its various sub-menu items describe how visitors are getting to your site. 3 Basic Traffic Mediums The Google Analytics Traffic Sources section categorizes your site traffic as "direct" traffic, "referring" traffic, or "search engine" traffic. The unofficial google shell. Goosh goosh.org 0.5.0-beta #1 Mon, 23 Jun 08 12:32:53 UTC, Google/Ajax Welcome to goosh.org - the unofficial google shell.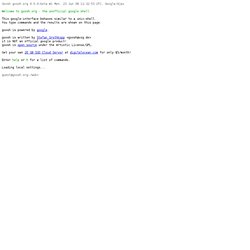 This google-interface behaves similar to a unix-shell. You type commands and the results are shown on this page. goosh is powered by google. goosh is written by Stefan Grothkopp <goosh@xsg.de> it is NOT an official google product! Google Hacking Database, GHDB, Google Dorks. We call them 'googledorks': Inept or foolish people as revealed by Google. Whatever you call these fools, you've found the center of the Google Hacking Universe! Latest Google Hacking Entries Google Hacking Database Categories Footholds (31) Google Transliteration. Google Search Tricks, Tips and Hints - Michael Gray. Even though I work in the search engine space I have a lot of the same bad search habits that most people have.
I expect Google to know that when I type in [Wedding Band] it should know whether I'm looking for jewelry or musicians. With that in mind I'm going to provide some tips to help you use Google to find things faster and quicker. You can find many of these tips on Google's website or other sites, however what I'm going to do is show you how to use some of these special queries to get better results. We'll start off with the basics and move on to more complex queries. Basic Searches. Hacking Google Analytics: Ideas, Tips and Tricks. Web analytics is a powerful tool made accessible to all of us through awesome free software such as Google Analytics. These tools are designed to satisfy the general needs of every kind of website out there. That's why website analytics tools, in general, are very good at offering a fundamental overview of traffic data of a site, but not so good when it comes to answering specific questions. To get specific questions answered, sometimes you have to work around limitations of your current software.
As a proof of concept, I'll present three examples/ideas for gathering more information in conjunction with Google Analytics. The purpose of this article is to present some starting points for your further exploration. How to use Google for Hacking. Web 2.0 - Google Academic.
---