Tutorials
Overview In this article, learn to use the RPM and YUM tools to manage the packages on your Linux system. Learn to: Install, reinstall, upgrade, and remove packages using RPM and YUMObtain information about RPM packages including version, status, dependencies, integrity, and signaturesDetermine what files a package provides, as well as find which package a specific file comes from.
Learn Linux, 101: RPM and YUM package management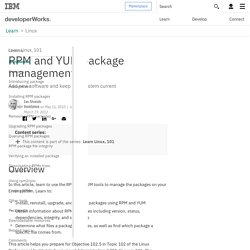 De Funtoo-Quebec. Index des trucs et astuces avancés Préparation d'un disque dur 4k Si les avancées technologiques visant à mieux utiliser la surface magnétique des plateaux d'un disque dur ont été considérables depuis ces dernières années (abandon du MFM, Zone Bit Recording, magnétisation perpendiculaire...) et ont permis de conserver dans un espace relativement restreint une capacité de stockage toujours plus grandissante, il y a un petit détail qui lui est resté le même depuis le début des années 1980 : les secteurs tracés sur la surface magnétique des plateaux d'un disque dur ne peuvent chacun stocker que 512 octets de "charge utile".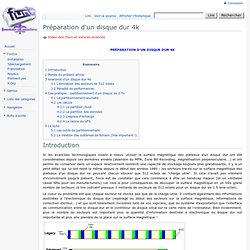 Préparation d'un disque dur 4k - Funtoo-Quebec
Bash Guide for Beginners
3.2.1. Types of variables As seen in the examples above, shell variables are in uppercase characters by convention. Bash keeps a list of two types of variables: 3.2.1.1. Global variables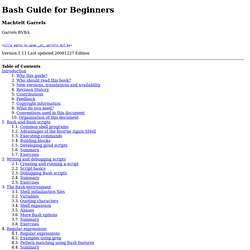 YoLinux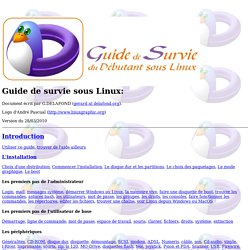 Document écrit par G.DELAFOND (gerard at delafond.org). Logo d'André Pascual (http://www.linuxgraphic.org) Version du 28/03/2010 Introduction Utiliser ce guide, trouver de l'aide ailleurs L'installation