Synthe
Mesi - more electronic sounds & imageries. Patents. Anyware Instruments Tinysizer. Open Source Hardware. The MeeBlip is open source hardware.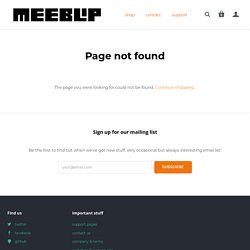 Hacking the MeeBlip isn't just a privilege or a feature; it's a right. Why make this open source? Home | analogindustries.com. A n a l o g u e h a v e n. Wire to the ear. MATRIXSYNTH. THE SYNTHI. Oakley Sound Systems: Analogue Synthesizer Modules. Mozilla Firefox. CGS - Ken Stone's Modular Synthesizer. MOS-LAB : bienvenue. Bleep Labs » Bleepstore! GRP Synthesizer. Deviant Synth - Analogue Heaven is poison. We are the antidote. XD. Modular project. All electronic projects and designs presented on this web site, or associated web sites should be considered dangerous if not lethal if not used safely.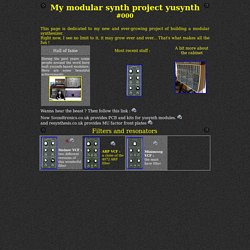 When working on projects based on these designs, use extreme care to ensure that you do not come into contact with mains AC voltages or high voltage DC. If you are not confident about working with mains voltages, or high voltages, or you are not legally allowed to work with mains voltages, or high voltages, you are advised not to attempt work on them. The author, host, and all people associated with these web pages disclaim any liability for damages should anyone be killed or injured while working on these projects, or projects based on these designs, or any other project or design presented on these web pages and any associated web pages. Museum of Soviet synthesizers. Polivoks Photo Description Polivoks is the portable electronic musical synthesizer which is designed for playing different musical compositions of any genre.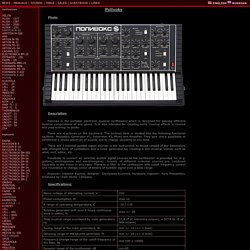 Carbon111.com. Modular Analog Synthesizers for Electronic Music. Synthesizer and electronic music news, synth and music software reviews and more! Sherman Filterbank 2 filterbox. Sherman Filterbank 2click image to enlarge - Bild klicken zum vergroessernother SHERMAN gear..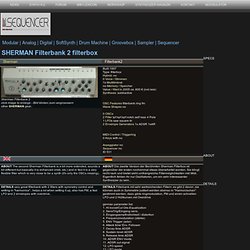 ABOUT The second Sherman Filterbank is a bit more extended, sounds a bit different but basically it is enhanced (midi, etc.) and in fact it is a very flexible filter which is very close to be a synth (it's only the OSCs missing).. ABOUT Die zweite Version der Berühmten Sherman Filterbox ist gegenüber der ersten nocheinmal etwas überarbeitet worden. Sie klingt recht rauh und bietet sieht umfrangreiche Filtermöglichkeiten inkl Midi. Synthesizers.
---