Electro...
Get flash to fully experience Pearltrees
Nous y sommes, c'est aujourd'hui que sort la compilation Valerie and Friends , fruit d'une collaboration avec le label ESR . Pour vous, nous avons réuni des titres exclusifs qui témoignent de la richesse créative de notre mouvement. Ce disque est une étape importante pour Valerie et se veut être un hommage à toutes nos rencontres artistiques passées et à venir.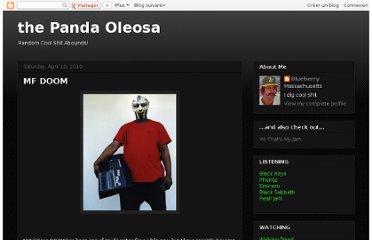 Metal Face DOOM has been one of my favorites for a while now, but I have recently become re-obsessed with him. Dude's got a crazy history ( check out his wiki ), and goes by and has released albums under many names: DOOM / MF DOOM / Viktor Vaughn / Madvillain / Super Villain / Dangerdoom / King Geedorah / Metal Fingers etc.