linux docs-lang refs
Get flash to fully experience Pearltrees
EC2 is already a (para)virtualized environment, which means it's nearly impossible to run your own virtualization (KVM/VirtualBox/qemu) from inside that environment. However, Linux recently introduced a new system into the kernel, called cgroups , which provides a way to isolate process groups from each other in the kernel. A project was soon formed around this new technology, which allows for very thin, fast, and secure quasi-virtualization. It's called LXC , short for LinuX Containers. And it works in EC2 perfectly. Here's how.
by Kenzaburo Ito (kenito@300baud.org) for 0.17.2 Introduction and background This is the Mantis user and system documentation. Configuration is covered in configuration.html.
L-Store L-Store Overview - Good overview document of all the L-Store components and how they fit together. L-Store Command Line Client Intro - An introduction on how to use the lstore client on the command line interface.
Jay Berardelli, Manager of Accounting berardelli@caucho.com Jay Berardelli joins Caucho as License Administrator and is now Manager of Accounting. He brings over 10 years of accounting and customer service experience to Caucho where he will focus on license administration, billing, documentation and customer care. Jay is based in San Diego and works closely with our Sales & Marketing team where he will be involved in Caucho's growing customer service programs. Previous to Caucho, Jay held the position of Office Manager overseeing full cycle accounting operations including business contracts and documentations. He holds a BA degree from Wilkes University.
XaoS is an interactive fractal zoomer. It allows the user to continuously zoom in or out of a fractal in a fluid, continuous motion. This capability makes XaoS great for exploring fractals, and it's fun! If you don't know what fractals are, don't worry. XaoS includes many animated tutorials that make learning about fractals fun and easy.
Welcome to Tor's combined bug tracker and wiki website. Choose New Ticket to create a new bug report or feature request. Most of the content here is written by volunteers from around the world. If you find a topic you want to fix, expand, or create, please either create an account or use the multi-user account cypherpunks with the password writecode Note that edits will be credited to the cypherpunks account and not you personally . Documentation ¶ Using Tor with … ¶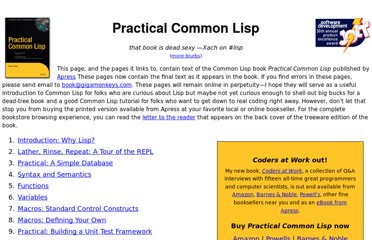 This page, and the pages it links to, contain text of the Common Lisp book Practical Common Lisp published by Apress These pages now contain the final text as it appears in the book. If you find errors in these pages, please send email to book@gigamonkeys.com . These pages will remain online in perpetuity—I hope they will serve as a useful introduction to Common Lisp for folks who are curious about Lisp but maybe not yet curious enough to shell out big bucks for a dead-tree book and a good Common Lisp tutorial for folks who want to get down to real coding right away. However, don't let that stop you from buying the printed version available from Apress at your favorite local or online bookseller. For the complete bookstore browsing experience, you can read the letter to the reader that appears on the back cover of the treeware edition of the book.
JTEC Panel on Edward Feigenbaum Chair Peter E. Friedland Bruce B. Johnson H. Penny Nii Herbert Schorr Howard Shrobe Robert S. Engelmore (Ed.)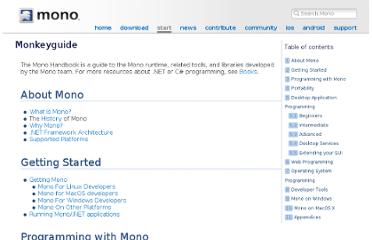 Mono Home Download Start News Contribute
An Introduction to Programming in Emacs Lisp This is an Introduction to Programming in Emacs Lisp , for people who are not programmers. Edition 3.10, 28 October 2009 Copyright © 1990–1995, 1997, 2001–2013 Free Software Foundation, Inc. Published by the:
Warning: This Beta version needs a browser capable of handling tables. The contents is still under revision, please send comments as indicated below if you find any problem. These WWW pages are not a digital version of the book, nor the complete contents of it.