Gamification et éducation
Behavior Management Software - ClassDojo. The 20 Best Blogs About Game-Based Learning - Microsoft UK Schools blog. How To Use Game Dynamics In The Classroom. Edudemic is all about finding innovative ways to get through to students.
That's why we've talked about game dynamics more than a few times. Inspiring students to learn through the gamification of a large lecture hall has not yet been broached by us Edudemic-ers. Lucky for us, Liz Gross has an incredible look at the gamification in her newest post " Can Game Dynamics Improve Attendance, Grades, and Engagement In A Large Lecture Course? " Below are some selected excerpts that I thought would be important for the discussion. Oxford Learning Lab Brings Gamification to Education | NEWS.
OXFORD, England, August 2, 2012 /NEWS.GNOM.ES/ – Boom, Crash, Bang!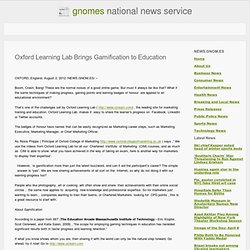 These are the normal noises of a good online game. But must it always be like that? What if the same techniques of making progress, gaining points and earning badges of honour are applied to an educational environment? That's one of the challenges set by Oxford Learning Lab ( , the leading site for marketing training and education. How to Motivate Physical Activity: Are rewards the key? | the Zamzee Blog. It can be hard for kids – and families – to make physical activity a regular part of daily life..
But the right amount of incentives can help make physical activity both rewarding and fun. The truth is, kids do all sorts of fantastic things spontaneously, without being rewarded for it. One morning, for example, they might declare they want to be the next JK Rowling – and then spend hours writing stories. For parents, it can be particularly encouraging to see kids remain dedicated to a worthwhile task, an important life skill for any of us. The question is: How can we foster this type of intrinsic motivation, the impulse and determination to continue just because something feels right, to help establish patterns of healthy behavior, like regular physical activity?
Gamification, Super Mario and STEM: Notes from the Games Learning Society Conference. The Future Of Education: An Online University That Charges $199 Per Month For Unlimited Classes. The higher education system in the U.S. is in trouble.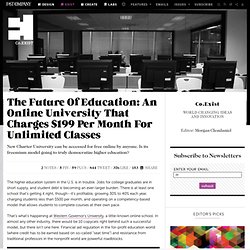 Jobs for college graduates are in short supply, and student debt is becoming an ever-larger burden. There is at least one school that's getting it right, though--it's profitable, growing 30% to 40% each year, charging students less than $500 per month, and operating on a competency-based model that allows students to complete courses at their own pace. That's what's happening at Western Governor's University, a little-known online school.
In almost any other industry, there would be 10 copycats right behind such a successful model, but there isn't one here. Financial aid regulation in the for-profit education world (where credit has to be earned based on so-called "seat time") and resistance from traditional professors in the nonprofit world are powerful roadblocks. [MONITORING] 10 millions de dollars pour gamifier l'éducation de la jeunesse | Gamorlive, The Blog. Aux Etats-Unis, l'industrie et les associations du jeu vidéo se sont récemment associées afin de créer un laboratoire du « game design » dont le champ de recherche va être fondé sur l'engagement et l'apprentissage des étudiants.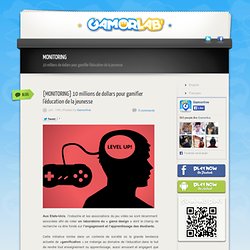 Cette initiative tombe dans un contexte de société où la grande tendance actuelle de »gamification » se mélange au domaine de l'éducation dans le but de rendre tout enseignement ou apprentissage, aussi amusant et engagent que le plus commun des jeux. Ce nouveau labo aka le « Games, Learning and Assessment (GLASS) Lab » sera géré par « The Institute of Play », une association à but non lucratif qui sera soutenu à hauteur de 10.3 millions de dollars par la fondation John D. et Catherine T. MacArthur, la fondation Bill et Melinda Gates, l'éditeur de jeux Electronic Arts ainsi que de l' « Entertainment Software Association (ESA) ».
Le laboratoire a été présenté le 28 Juin dernier à l' » Aspen Ideas Festival » au Colorado. Video Games, Addiction, and the Potential for Addictive Education | Learning Through Play & Technology. By Hap Aziz Dr.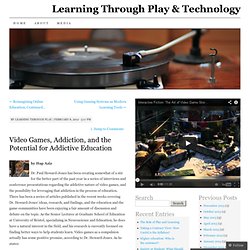 Paul Howard-Jones has been creating somewhat of a stir for the better part of the past year in a series of interviews and conference presentations regarding the addictive nature of video games, and the possibility for leveraging that addiction in the process of education. There has been a series of articles published in the recent weeks covering Dr. The Trouble with Gamification.
In a May 29, 2012 post on her blog, game designer Elizabeth Sampat outlined some of the problems with the gamification movement as seen from the perspective of a seasoned game designer.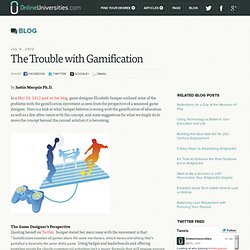 Here is a look at what Sampat believes is wrong with the gamification of education as well as a few other issues with the concept, and some suggestions for what we might do to move the concept beyond the canned solution it is becoming. The Game Designer's PerspectiveQuoting herself on Twitter, Sampat stated her main issue with the movement is that: "Gamification assumes all games share the same mechanics, which means everything that's gamified is basically the same shitty game.
Using badges and leaderboards and offering toothless points for clearly-commercial activities isn't a magic formula that will engage anyone at any time. Demographics are different, behavior is different— things that will work to motivate users of product X will not work to motivate users of product Y. Apprendre de 7 a 77 ans.
3 raisons pour lesquelles vous devriez passer au Serious Game pour vos prochaines formations. Mardi dernier s'est tenue à Bruxelles une conférence organisée par l'ISTF – Institut Supérieur des Technologies de la Formation – sur le thème : « Serious Game, ROI et pédagogie » L'occasion pour ceux qui n'avaient pas eu l'occasion de participer à la conférence SeriousGame.be 2012 de rattraper leur retard.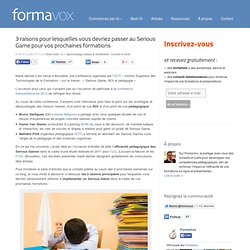 Au cours de cette conférence, 3 experts sont intervenus pour faire le point sur les avantages et désavantages des Serious Games, d'un point de vue ROI et d'un point de vue pédagogique : Bruno Dartigues (DG e-doceo Belgium) a partagé avec nous quelques études de cas et retours d'expériences de projets concrets réalisés auprès de clients.Xavier Van Dieren (consultant E-Learning NOW.be) nous a fait découvrir, de manière ludique et interactive, les clés de succès et étapes à réaliser pour gérer un projet de Serious Game.Nathalie Pilet (ingénieur pédagogique ISTF) a terminé en abordant les Serious Games sous l'angle de la pédagogie et des sciences cognitives. Bongo Publishing - Bongo LLP. Floppy the Monster Is Nearly Lost Forever Interactive Story Builder ISBN 978-1-907719-09-7 School Edition Floppy the Monster Interactive is an interactive resource for 4 to 6 year olds, which helps and encourages young children to write their own stories.
Working together with others in the class with the teacher, the young children produce their very own story. Once completed, this story can be published in a full colour book. Gamification In The Classroom: How (And Why) One Teacher Did It. Latinity Points (XP) as a Replacement for Grades, Part 4. In the previous three parts of this exercise, I laid out the criteria required in order to evaluate without grading, explained how Latinity Points are utilized as a part of Operation LAPIS, and then provided a full discussion and response from a group of three students.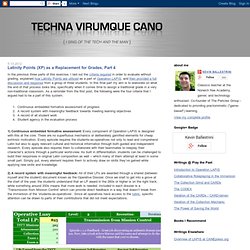 In this final part my aim is to elaborate on what the end of that process looks like, specifically when it comes time to assign a traditional grade in a very non-traditional classroom. As a reminder from the first post, the following were the four criteria that I argued had to be a part of this system.Continuous embedded formative assessment of progressA record system with meaningful feedback towards meeting learning objectivesA record of all student workStudent agency in the evaluation process 1) Continuous embedded formative assessment: Every component of Operation LAPIS is designed with this at the core. There are no superfluous mechanics or deliberately gamified elements for cheap extrinsic motivation. Gamification And UX: Where Users Win Or Lose. Advertisement The gaming industry is huge, and it can keep its audience consumed for hours, days and even weeks.
Some play the same game over and over again — and occasionally, they even get out their 15-year-old Nintendo 64 to play some Zelda. In The Office | SuperBetter Labs. John Solomon John, a serial entrepreneur, is CEO of SuperBetter Labs. SuperBetter Labs is John's fourth startup and he is excited about building a resilient and SUPERBETTER company. John came to SuperBetter Labs from enovate, which he founded in 2008 and sold in 2010. As CEO of enovate, John grew the company to over 20 employees who built several consumer research and tracking tools used by many of the largest consumer brands in the world, including Nike, Coca-Cola, Unilever, and BMW.
Prior to enovate, John started an e-commerce business and a non-profit. NewsiT Raises $500K To Gamify Crowd Journalism. Crowdsourced news platform NewsiT.net just announced that it has raised $500,000 in seed funding. And, timed to match the beginning of South by Southwest, it's also launching its iPhone app. The company was founded by longtime journalist Melinda Wittstock, who has worked for the Times of London, BBC Television, the Guardian, the Observer, ABC News, National Public Radio, and MSNBC/CNBC. Candidats à l'Elysée et gamification. La grande question que se posent les communicants politiques quant à la campagne présidentielle de 2012 porte bien évidemment sur la manière d'investir et d'optimiser la présence de leur favori sur les médias sociaux. La grande question que se posent les communicants politiques quant à la campagne présidentielle de 2012 porte bien évidemment sur la manière d'investir et d'optimiser la présence de leur favori sur les médias sociaux.
Avec un taux de pénétration et une puissance de diffusion incroyables, Facebook et YouTube ont en effet de quoi faire de l'ombre aux supports médiatiques traditionnels. Certains me diront que l'étendue de leurs cibles n'est pas comparable. En s'attardant sur les chiffres, force est de constater que Facebook ne touche pas qu'un public d'adolescents et de pré-adultes. No Longer An Awkward Teenager? Gamification Grows Up. Editor's note: Guest contributor Joseph Puopolo is an entrepreneur and startup enthusiast, who blogs on a variety of topics including green initiatives, technology and marketing. Over the last year, you may have noticed that a once-niche trend not only crept into the mainstream, but is starting to really make a big splash. Gamification has become one of the hottest buzz words in the industry and is probably in the process of taking over a website or user experience near you.
Of Course iPads Belong In Classrooms — It's All About Balance. How Bill Gates' Favorite Teacher Wants to Disrupt Education. Can Technology Transform Education Before It's Too Late?
---