N.O.V.A. Near Orbit Vanguard Alliance
N.O.V.A Mini Site
N.O.V.A. Apple Keynote
N.O.V.A. Teaser
N.O.V.A. Multiplayer Mode
N.O.V.A. Game Trailer
A few months ago the famous japanese video games magazine Famitsu got an exclusive interview of Arnaud, the producer of N.O.V.A. Near Orbit Vanguard Alliance, that you already met in Kal Wardin's first comic strip. So here's the translated version of the interview. Oh and by the way, with my awesome Photoshop skills I managed to get a clean picture of Kal's iPhone (if you don't know what I'm talking about check out the latest comic strip!). I think Sara will have to explain herself… And now the interview!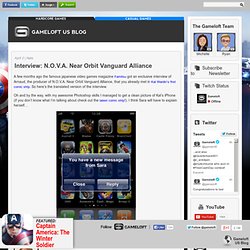 N.O.V.A. Interview
N.O.V.A. Files #4: The Dark Past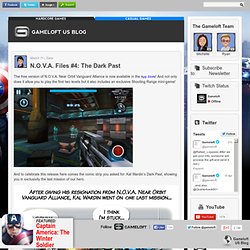 The free version of N.O.V.A. Near Orbit Vanguard Alliance is now available in the App Store! And not only does it allow you to play the first two levels but it also includes an exclusive Shooting Range mini-game!
Many of you probably wonder how we create the heroes for our video games. Well it's not an easy task; it takes a lots of analysis, market research, brain storming, pizzas and sketches to finally come up with THE perfect hero for one of our game. Today I'll take you directly into our studio to see the true development story of how Kal Wardin became the hero of N.O.V.A. Near Orbit Vanguard Alliance…
N.O.V.A. Files #3: Advent of a Hero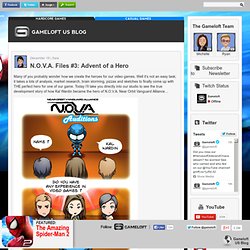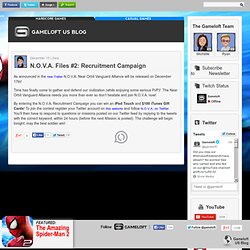 As announced in the new Trailer N.O.V.A. Near Orbit Vanguard Alliance will be released on December 17th! Time has finally come to gather and defend our civilization (while enjoying some serious PvP)! The Near Orbit Vanguard Alliance needs you more than ever so don't hesitate and join N.O.V.A. now! By entering the N.O.V.A.
N.O.V.A. Files #2: Recruitment Campaign
N.O.V.A. Files #1: Synopsis
With Earth no longer able to sustain life, huge artificial satellites called "near-orbitals" were constructed for people to live on. Humanity now begins an aggressive campaign of colonization across the galaxy in a struggle to survive. To protect themselves, the near-orbitals banded together to form N.O.V.A., the Near-Orbital Vanguard Alliance. Now, a strange threat has emerged from the darkness of space. A marine ship, reported missing just a week ago, has suddenly reappeared and is headed directly for the near-orbitals, ignoring all communications. Against his will, retired marine hero Kal Wardin, is forcefully returned to active duty with N.O.V.A. to infiltrate the ship.
The December episode of our monthly video podcast is now available with all our December iPhone games! You can watch this video podcast on the blog by clicking on the Podcast button and on iTunes, where you'll be able to subscribe to our channel to be informed every time a new episode is released :) In this new episode take a look at N.O.V.A. Near Orbit Vanguard Alliance multiplayer mode (yes it's me playing against Josh, and for the record: I won) and at the exclusive interview of Jon Landau, producer of the movie Avatar (in theaters December 18th).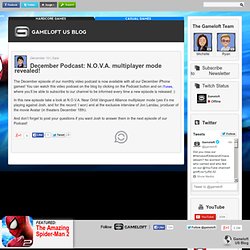 N.O.V.A. Multiplayer Mode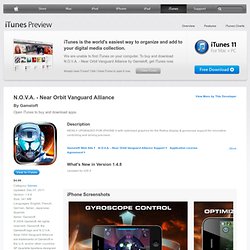 Description NEWLY UPGRADED FOR iPHONE 4 with optimized graphics for the Retina display & gyroscope support for innovative controlling and aiming precision. **IGN - Best Action Game of the Year: "A slam-bang action game that draws a new line in the sand"**Pocket Gamer - 9/10 + Gold Award: "Extraordinarily polished gameplay and high production values guarantee a blast"**Touch Arcade: " One of the most ambitious iPhone games I've played so far"The most revolutionary sci-fi FPS for your iPhone & iPod Touch! Join the fight for mankind's survival against the aggressive aliens known as Judges in this immersive space opera. With Earth no longer able to sustain life, huge artificial satellites called "near-orbitals" were constructed for people to live on.
N.O.V.A. on the App Store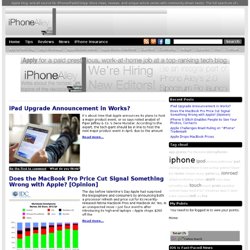 As we are in the phases of preparing to re-launch iPhone Alley, redesigning each and every bolt of the site from the ground up, of course we realize the key to a well-oiled machine is to have a fantastic team working on it. Thus we are accepting applications to join a team of exceptional writers in our venture to become a perfectly well-rounded iOS site with up-to-the-minute iOS/iPhone/iPad/Apple news, unique article series, top-notch application and product reviews, all rounded out by enlightening editorials and a sharp wit; to name some of the vast array of topics we would like to cover. Intrigued to become part of an evolving team at a top-ranking technology blog centering around what is perhaps the hottest topic of our time? Continue reading to find out exactly what we are looking for and how to apply.