Cloud Computing
Qu'est-ce que la virtualisation ?
La virtualisation fait partie de ces « nouvelles technologies » dont on entend de plus en plus parler, et permet d'installer plusieurs « serveurs virtuels » en même temps sur la même machine, comme si c'était des serveurs physiques séparés. En fait il existe plusieurs types de virtualisations suivant ce que l'on cherche à virtualiser : des serveurs, des desktops, des applications… Mais le principe est le même, à savoir remplacer plusieurs machines physiques par une seule, sur laquelle tourne plusieurs machines virtuelles en même temps et afin d'optimiser l'utilisation des ressources de la machine. Le constat initial est simple : la majorité des serveurs (mais également des desktops) n'utilisent la plupart du temps qu'un faible pourcentage de leur ressources (cpu, mémoire, accès disques…). En utilisant la virtualisation, on peut mieux exploiter les ressources d'une machine donnée.
Pourquoi VMware vient de s'offrir PacketMotion
Je ne risque pas grand chose si je vous dis que la sécurité du Cloud Hybride sera l'un des axes forts de #VMworld 2011, le méga show annuel de VMware, qui ne va plus tarder à ouvrir ses portes Las Vegas - avec près de 20 000 visiteurs annoncés. Sécurité & Cloud, le débat est encore loin d'avoir été clos, vous le savez aussi bien que moi. En guide de mise en bouche sur le sujet, VMware vient d'annoncer l'acquisition de PacketMotion, à peine deux jours avant l'ouverture, via un billet plutôt sobre de Dean Coza, Directeur Produits & Security chez VMware, sur le blog officiel «The Console». Du DLP amélioré PacketMotion est une start-up californienne qui s'est spécialisée dans l'UAM (User Activity Management, ou la gestion de l'Activité des utilisateurs).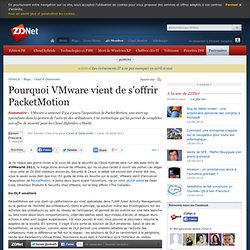 The Top 100 Bloggers on Cloud Computing
Whether they are cloud service outages or natural disasters, cloud computing can be both a nightmare or a savior to your IT organization: either it halts your business operation or loses your data, or it allows you to continue operate your business as workloads are switched to or backed up by physically safer data centers. Whatever outcome they bring, it boils down to the use of cloud-based storage and cloud data backup, which are two very different concepts. Cloud-based storage vs. cloud data backup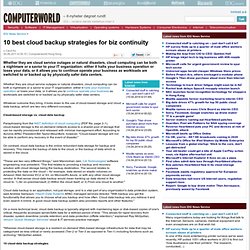 10 best cloud backup strategies for biz continuity ( - Internet )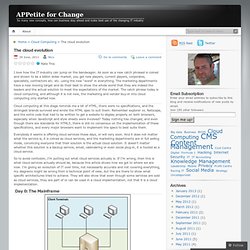 I love how the IT industry can jump on the bandwagon. As soon as a new catch phrased is coined and shown to be a billion dollar market, you get new players, current players, corporates, specialists, contractors etc. etc. using the new "word" in everything. The marketing departments have a new moving target and do their best to show the whole world that they are indeed the leaders and the actual solution to meet the expectations of the market.
The cloud evolution « content management
l'Open Cloudware, présenté par Jean-Pierre LAISNE - Solutions Linux Open Source 2011