Inspiring
25 Beautifully Illustrated Thought-Provoking Questions. Post written by: Marc Chernoff Email A question that makes you think is worth asking… At the cusp of a new day, week, month, or year, most of us take a little time to reflect on our lives by looking back over the past and ahead into the future.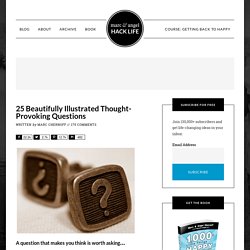 Two Lists You Should Look at Every Morning - Peter Bregman. By Peter Bregman | 11:00 AM May 27, 2009 I was late for my meeting with the CEO of a technology company and I was emailing him from my iPhone as I walked onto the elevator in his company's office building.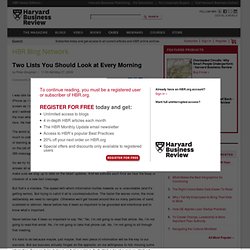 I stayed focused on the screen as I rode to the sixth floor. I was still typing with my thumbs when the elevator doors opened and I walked out without looking up. Nine Things Successful People Do Differently - Heidi Grant Halvorson. Learn more about the science of success with Heidi Grant Halvorson's HBR Single, based on this blog post.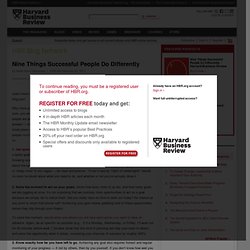 Why have you been so successful in reaching some of your goals, but not others? If you aren't sure, you are far from alone in your confusion. Enlightened Perspective | analyfe. How to Become an Early Riser. It is well to be up before daybreak, for such habits contribute to health, wealth, and wisdom. - Aristotle Are morning people born or made?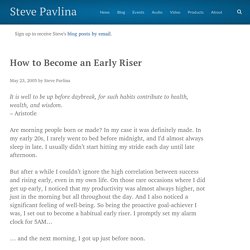 In my case it was definitely made. In my early 20s, I rarely went to bed before midnight, and I'd almost always sleep in late. I usually didn't start hitting my stride each day until late afternoon. 40 Of The Most Powerful Photographs Ever Taken. Unimpressed: Thing could have been a lot worse. 50 Lessons I wish I had learned earlier | Family on Bikes. Welcome to our blog!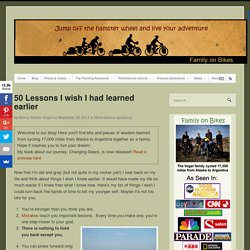 Here you'll find bits and pieces of wisdom learned from cycling 17,000 miles from Alaska to Argentina together as a family. Hope it inspires you to live your dream! My book about our journey, Changing Gears, is now released! 30 Days, 30 Ways to Build Better Self Confidence. The 48 Laws of Power. Background[edit] Greene initially formulated some of the ideas in The 48 Laws of Power while working as a writer in Hollywood and observing that today's power elite shared similar traits with powerful figures throughout history.[4] In 1995, Greene worked as a writer at Fabrica, an art and media school, and met a book packager named Joost Elffers.[6][9] Greene pitched a book about power to Elffers and six months later, Elffers requested that Greene write a treatment.[6] Although Greene was unhappy in his current job, he was comfortable and saw the time needed to write a proper book proposal as too risky.[11] However, at the time Greene was rereading his favorite biography about Julius Caesar and took inspiration from Caesar's decision to cross the Rubicon River and fight Pompey, thus inciting the Great Roman Civil War.[11] Greene would follow Caesar's example and write the treatment, which later became The 48 Laws of Power.[11] He would note this as the turning point of his life.[11]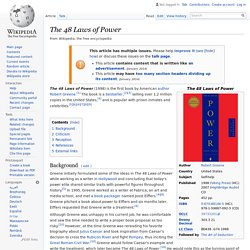 ---