Design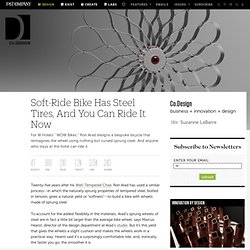 Soft-Ride Bike Has Steel Tires, And You Can Ride It Now | Co. Design
Twenty-five years after his Well-Tempered Chair, Ron Arad has used a similar process--in which the naturally sprung properties of tempered steel, bolted in tension, gives a natural yield or "softness"--to build a bike with wheels made of sprung steel. To account for the added flexibility in the materials, Arad's sprung wheels of steel are in fact a little bit larger than the average bike wheel, says Marcus Hearst, director of the design department at Arad's studio. But it's this yield that gives the wheels a slight cushion and makes the wheels work in a practical way.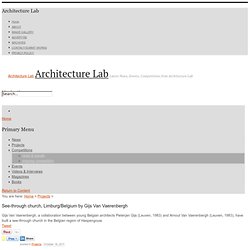 Project Details: Location: Limburg, Belgium Type: Cultural - Public Architects: Gijs Van Vaerenbergh - www.gijsvanvaerenbergh.com Photos: Kristof Vrancken / Z33 – Mine Daelemans photo by Kristof Vrancken / Z33 The church is a part of the Z-OUT project of Z33, house for contemporary art based in Hasselt, Belgium. Z-OUT is an ambitious longterm art in public space project that will be realised on different locations in the Flemish region of Limburg over the next five years.
Dennis MacAlistair Ritchie (September 9, 1941 – c. October 12, 2011)[1][2][3][4] was an American computer scientist who "helped shape the digital era."[1] He created the C programming language and, with long-time colleague Ken Thompson, the Unix operating system.[1] Ritchie and Thompson received the Turing Award from the ACM in 1983, the Hamming Medal from the IEEE in 1990 and the National Medal of Technology from President Clinton in 1999. Ritchie was the head of Lucent Technologies System Software Research Department when he retired in 2007.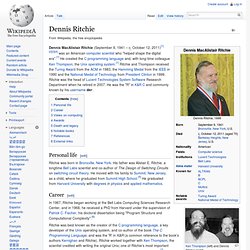 Dennis Ritchie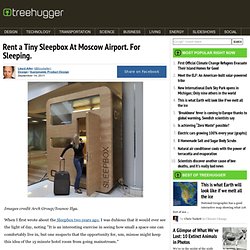 Images credit Arch Group/Ivanov Ilya. When I first wrote about the Sleepbox two years ago, I was dubious that it would ever see the light of day, noting "It is an interesting exercise in seeing how small a space one can comfortably live in, but one suspects that the opportunity for, um, misuse might keep this idea of the 15 minute hotel room from going mainstream." But it has, with a working prototype set up in Moscow. Designed by the Arch Group, about the only change from the original proposal is that it is made of wood instead of plastic (common for prototypes, and the minimum time has increased from 15 minutes to half an hour.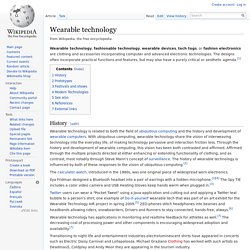 Wearable technology
Wearable technology, wearable devices, tech togs, or fashion electronics are clothing and accessories incorporating computer and advanced electronic technologies. The designs often incorporate practical functions and features, but may also have a purely critical or aesthetic agenda.[1] History[edit] Wearable technology is related to both the field of ubiquitous computing and the history and development of wearable computers. With ubiquitous computing, wearable technology share the vision of interweaving technology into the everyday life, of making technology pervasive and interaction frictionless.
A Chair for Clingy Lovers If you've ever had someone sit in your lap, you know that 15 minutes is about the max your legs can handle. It's really not fair. The Hug chair brings simple design and human gesture together for that extra time you want to sit with your significant other. When you're away from your special someone the extra seat doubles as a convenient space, perfect for catching up on video chat. Designer: Ilian Milinov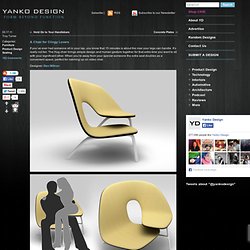 Things I have made by wiggling my mouse. And yes, that's very astute of you. I can do more than just design websites; I can do branding and illustrations too. I can also do a great impression of an injured monkey, but now is not the time nor is it the place.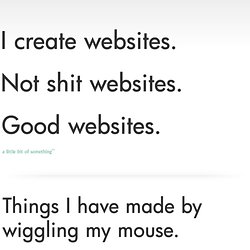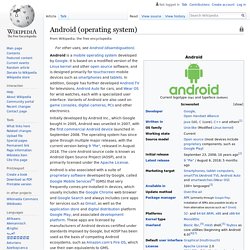 Android is an operating system based on the Linux kernel,[12] and designed primarily for touchscreen mobile devices such as smartphones and tablet computers. Initially developed by Android, Inc., which Google backed financially and later bought in 2005,[13] Android was unveiled in 2007 along with the founding of the Open Handset Alliance: a consortium of hardware, software, and telecommunication companies devoted to advancing open standards for mobile devices.[14] The first publicly available smartphone running Android, the HTC Dream, was released on October 22, 2008.[15] The user interface of Android is based on direct manipulation, using touch inputs that loosely correspond to real-world actions, like swiping, tapping, pinching and reverse pinching to manipulate on-screen objects.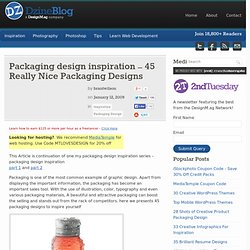 Learn how to earn $125 or more per hour as a freelancer - Click Here Looking for hosting?. We recommend MediaTemple for web hosting. Use Code MTLOVESDESIGN for 20% off
Packaging design inspiration – 45 Really Nice Packaging Designs at DzineBlog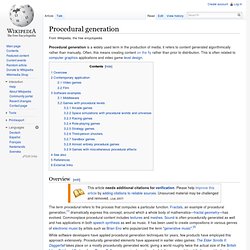 Procedural generation
Procedural generation is a widely used term in the production of media; it refers to content generated algorithmically rather than manually. Often, this means creating content on the fly rather than prior to distribution. This is often related to computer graphics applications and video game level design. Overview[edit] The term procedural refers to the process that computes a particular function. Fractals, an example of procedural generation,[1] dramatically express this concept, around which a whole body of mathematics—fractal geometry—has evolved.
Combination Memory The Collector USB Flash Drive is one awesome concept that I'd love to see on shelves. The idea is simple. A USB Stick accommodates small capacity memory cards. Custom configure the stick or simply keep expanding, just do your techie thing and be happy! What a great way to use all those smaller cards laying around the house.
Collector USB Flash Drive by Fang-Chun Tsai
Naval architecture is an engineering discipline dealing with the design, construction, maintenance and operation of marine vessels and structures.[1][2] Naval architecture involves basic and applied research, design, development, design evaluation and calculations during all stages of the life of a marine vehicle. Preliminary design of the vessel, its detailed design, construction, trials, operation and maintenance, launching and dry-docking are the main activities involved. Ship design calculations are also required for ships being modified (by means of conversion, rebuilding, modernization, or repair). Naval architecture also involves formulation of safety regulations and damage control rules and the approval and certification of ship designs to meet statutory and non-statutory requirements.
Naval architecture
Vector_Video_Standards5
2564238516737894ji2.jpg (JPEG Image, 1024x782 pixels)
The BAE Systems Taranis is a British demonstrator programme for Unmanned Combat Air Vehicle (UCAV) technology, being developed primarily by the defence contractor BAE Systems. A semi-autonomous unmanned warplane, it is designed to fly intercontinental missions, and will carry a variety of weapons, enabling it to attack both aerial and ground targets. It will utilise stealth technology, giving it a low radar profile, and it will be controllable via satellite link from anywhere on Earth.[1][2] The Strategic Unmanned Air Vehicles (Experiment) Integrated Project Team, or SUAV(E) IPT, is responsible for auditing and overseeing the project.[3] The aircraft, which is intended to demonstrate the viability of unmanned multi-role systems, is named after the Celtic god of thunder, Taranis.[4] It conducted its first flight in 2013.[5] Background[edit]
BAE Taranis
Northrop Grumman MQ-8 Fire Scout
The Northrop Grumman MQ-8 Fire Scout is an unmanned autonomous helicopter developed by Northrop Grumman for use by the United States Armed Forces.[2] The Fire Scout is designed to provide reconnaissance, situational awareness, and precision targeting support for ground, air and sea forces. The initial RQ-8A version was based on the Schweizer 330, while the enhanced MQ-8B was derived from the Schweizer 333. Design and development[edit]
Vitruvius
Shearing (manufacturing)
HDMI
Vector Video Standards5.svg - Wikipedia, the free encyclopedia
DisplayPort
engineers-ring.jpg (JPEG Image, 471x354 pixels)
Online Photo and Video Hosting
crovel editorial.jpg (JPEG Image, 1800x1215 pixels) - Scaled (70%)