Craft
Hexagon Quilt by Isabelle Etienne-Bugnot
Portland cement
A pallet with Portland cement Portland cement (often referred to as OPC , from Ordinary Portland Cement ) is the most common type of cement in general use around the world because it is a basic ingredient of concrete , mortar , stucco and most non-specialty grout . It usually originates from limestone .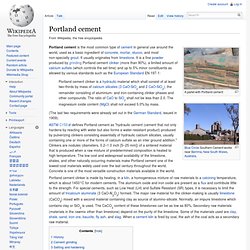 Polyurethane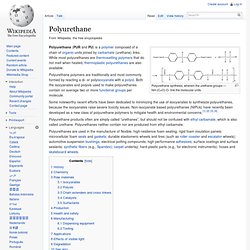 Polyurethane synthesis, wherein the urethane groups — NH-(C=O)-O- link the molecular units. Polyurethane ( PUR and PU ) is a polymer composed of a chain of organic units joined by carbamate (urethane) links. While most polyurethanes are thermosetting polymers that do not melt when heated, thermoplastic polyurethanes are also available. Polyurethane polymers are formed by reacting an isocyanate with a polyol . Both the isocyanates and polyols used to make polyurethanes contain on average two or more functional groups per molecule.
Depiction of two " Fullerene Nano-gears" with multiple teeth. Materials science , also commonly known as materials engineering , is an interdisciplinary field applying the properties of matter to various areas of science and engineering . This relatively new scientific field investigates the relationship between the structure of materials at atomic or molecular scales and their macroscopic properties.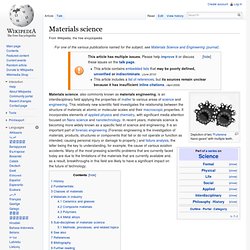 Cooling system of a cryogenic grinder An Example of a solenoid powered cryogenic grinder How cryogenic grinding with a solenoid works Cryogenic grinding , also known as freezer milling , freezer grinding , and cryomilling , is the act of cooling or chilling a material and then reducing it into a small particle size.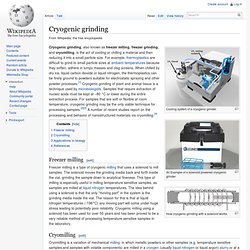 Cryogenic grinding
Stock Material | Travers Tool
A fullerene is any molecule composed entirely of carbon , in the form of a hollow sphere , ellipsoid or tube . Spherical fullerenes are also called buckyballs , and they resemble the balls used in football (soccer). Cylindrical ones are called carbon nanotubes or buckytubes.
Fullerene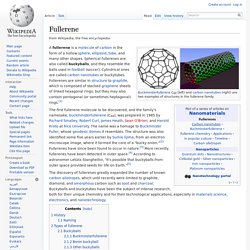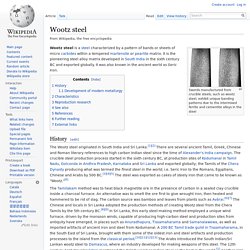 Wootz steel is a steel characterized by a pattern of bands or sheets of micro carbides within a tempered martensite or pearlite matrix. It is stated to have developed in India around 300 BC. [ 1 ] However, the steel was an old technology in India when King Porus presented a steel sword to the emperor Alexander in 326 BC. The steel technology obviously existed before 326 BC as steel was being exported westward at that time. Since the technology was acquired from the Tamilians from South India, the origin of steel technology in India can be conservatively estimated at 400–500 BC.
Wootz steel
Ferrous metallurgy began far back in prehistory . The earliest surviving iron artifacts, from the 5th millennium BC in Iran and 2nd millennium BC in China , were made from meteoritic iron- nickel . [ 1 ] By the end of the 2nd millennium BC iron was being produced from iron ores from South of the Saharan Africa to China . [ 2 ] The use of wrought iron was known in the 1st millennium BC. During the medieval period, means were found in Europe of producing wrought iron from cast iron (in this context known as pig iron ) using finery forges .
History of ferrous metallurgy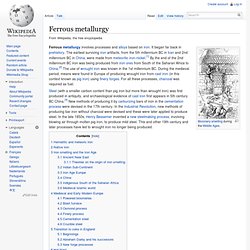 Mobile Machine Shop US Army 1943.jpg - Wikipedia, the free encyclopedia
Milling is the machining process of using rotary cutters to remove material from a workpiece advancing (or feeding ) in a direction at an angle with the axis of the tool. It covers a wide variety of different operations and machines, on scales from small individual parts to large, heavy-duty gang milling operations. It is one of the most commonly used processes in industry and machine shops today for machining parts to precise sizes and shapes. [ edit ] Process A profile of revolution ridges Milling operates on the principle of rotary motion .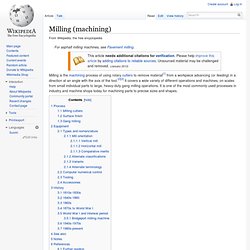 Milling machine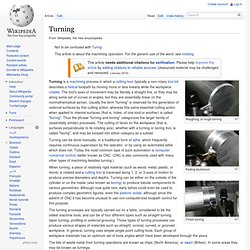 Roughing, or rough turning Parting aluminum Finish turning
Turning
Belt grinding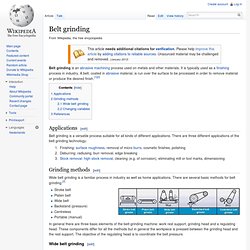 Belt grinding is an abrasive machining process used on metals and other materials. It is typically used as a finishing process in industry. A belt, coated in abrasive material, is run over the surface to be processed in order to remove material or produce the desired finish. [ 1 ] [ 2 ] [ edit ] Applications Belt grinding is a versatile process suitable for all kinds of different applications.
The basic steps in the friction drilling process: 1. Tool 2. Heat 3. Screw thread tap Friction drilling is a method of making holes in metal in which the material is pushed out of the way with the aid of heat from friction. The process is also called thermal drilling, flow drilling, form drilling, or friction stir drilling. [ 1 ]
Friction drilling
Casting iron in a sand mold In metalworking , casting involves pouring liquid metal into a mold , which contains a hollow cavity of the desired shape, and then allowing it to cool and solidify. The solidified part is also known as a casting, which is ejected or broken out of the mold to complete the process. Casting is most often used for making complex shapes that would be difficult or uneconomical to make by other methods. [ 1 ] Casting processes have been known for thousands of years, and widely used for sculpture , especially in bronze , jewellery in precious metals , and weapons and tools.
Casting (metalworking)