PLM
www.plmtalks.com - PLM talks - PLM ideas in motion
Conference - October 2 & 3, 2012: 19th annual PLM Road Map™ conference. CIMdata's analysts and key industry players shared their experiences in addressing strategic PLM topics.For more information on PLM Road Map click here . Plymouth, MI October 1, 2012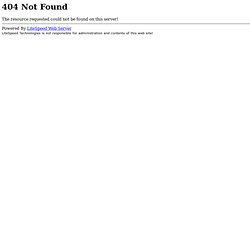 CPDA
Solutions Products Services Support & Training Alliances Community About Cadence Solutions: Design IP Mixed-Signal Low-Power Advanced Node 3D-IC Enterprise Verification Hosted Design System Development Suite Solutions Home Products for: System Design and Verification Functional Verification Logic Design Digital Implementation Custom IC Design RF Design PCB Design IC Packaging and SiP Design Manufacturability Signoff More Products OrCAD Products Sigrity Technologies Design IP Verification IP IP Catalog Products A-Z Products Home Capabilities and Practices Methodology Services Design Services DFM Services Educational Services Programs SOI Design Hub Services Home Support Support Offerings Support Process Cadence Online Support Software Downloads Computing Platform Support University Software Program Training Training Options Training Course Catalogs Support & Training Home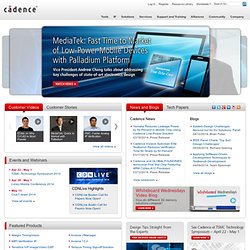 Why Oracle's Agile PLM? Oracle's complete Agile PLM solutions help companies solve one of today's most complex challenges: how to innovate profitably. As product needs grow increasingly complex on a global scale, old methods of collaboration like manual or point systems - even email - are growing obsolete. Business leaders aiming to optimize all aspects of designing, developing, launching, servicing, and disposing of products in an integrated, best-in-class model are choosing to partner with Oracle to leverage our deep expertise, broad portfolio, and strong community commitment. Oracle's Agile PLM is the industry's most comprehensive enterprise PLM solution, and a key building block required to manage product value chains .
Agile Product Lifecycle Management | Applications | Oracle
PLM - Product Lifecycle Management Software Solutions
"3D Modelers" usually fall into three major groups: 3D Design Engineers (CAD design) 3D Artists/Animators (Digital Content Creators – DCC) Architects/Interior Designers However, all three groups of " 3D Modelers " use very different software tools, and rarely do you see much overlap, as 3D software is built specifically by industry. HOWEVER…when it comes time to communicating these designs, that's when we can see these groups collide. Typically we see the second group (3D Artists/Animators/Game designers) using Gaming technology to create, well…games.
3D CAD + 3DVIA Studio = Cool Apps!
iViP Association | Recommendations & Standards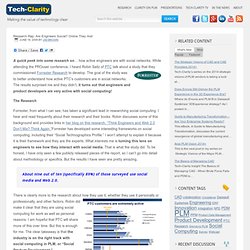 A quick peek into some research on … how active engineers are with social networks. While attending the PROuser conference, I heard Robin Saitz of PTC talk about a study that they commissioned Forrester Research to develop. The goal of the study was to better understand how active PTC's customers are in social networks. The results surprised me and they didn't, it turns out that engineers and product developers are very active with social computing! The Research
Research Rap: Are Engineers Social? Online They Are! | Clarity on PLM
Facebook F8 conference this week was a place for some very interesting announcements that, in my view, may have an impact on PLM too. I can recommend you to read a good summary of news introduced by Facebook here . In my view, it presents a very interesting dimension in the future development of Facebook.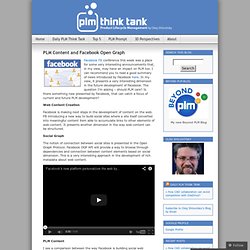 PLM Content and Facebook Open Graph « Daily PLM Think Tank Blog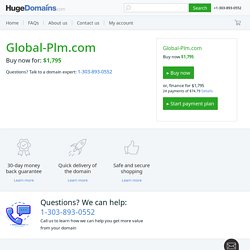 This is the home site of Martin Ohly. Originally from the UK and now over 25 years in Germany based in Berlin. I have worked for over 33 years in different areas of engineering and IT. The last 20 years working on large and distributed systems in different application domains - covering factory control, healthcare, SAP deployments, global PLM solutions and most recently concerned with electronic toll collection systems - with many successful and some not so successful large and small projects.
Global PLM (Product Lifecycle Management), Architecture, SOA and Development