Kick-Ass
Kick-Ass-Matthew Vaughn-Critique du film | Buzzmygeek
[Critique de Film] Kick-Ass ! - Vie de Geek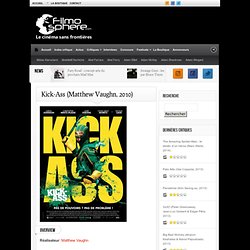 Étonnant parcours que celui de Matthew Vaughn, ami et producteur de Guy Ritchie, avant que celui-ci ne parte à la dérive, et passé ensuite à la réalisation avec un certain succès. Après deux films, le thriller british Layer Cake, efficace, et le merveilleux Stardust, seul digne héritier du Princess Bride de Rob Reiner, il a prouvé que non seulement il possédait un véritable sens de la mise en scène mais qu'en plus il avait la culture cinéphile nécessaire pour être un réalisateur capable de s'attaquer à n'importe quel genre. Après avoir refusé (à raison, sinon c'était le coup d'arrêt de sa carrière par la Fox) de réaliser X-Men: l'Affrontement Final, il revient tout de même à une adaptation de comic-book en s'attaquant au très controversé Kick-Ass (précédé d'une aura culte instantanée assez étonnante) du non moins controversé Mark Millar, qui apporte sa bénédiction au film jusqu'à le co-produire.
Kick-Ass (2010
I'll be blog » Blog Archive » Kick ass, l'indépendant à la sauce
Après avoir beaucoup fait parler de lui dans la blogosphère geeko-ciné, le mois prochain sort le film censé donner une nouvelle facette aux films de super héros, le bien-nommé . C'est l'occasion de revenir sur les origines du projet d'adaptation de ce Comics, et de constater comment sa conception financière à double facette reflète ce qu'il a donné à l'écran.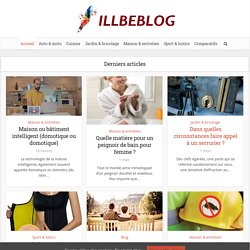 Kick-Ass - Geek Culture
Kick-Ass (2009)
Kick-ass, le film qui va tout déchirer
Various Artists - Kick-Ass: Music From The Mo..
Kick Ass - Official Trailer [HD]
Chloe Moretz talks about 'Kick-Ass' at Comic-Con
Mika - Kick-Ass (Clip Officiel) + Paroles
Kick-Ass : Film le plus cool de l'année ?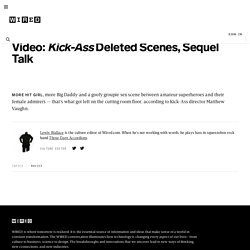 Video: Kick-Ass Deleted Scenes, Sequel Talk | Underwire | Wired.
More Hit Girl, more Big Daddy and a goofy groupie sex scene between amateur superheroes and their female admirers — that's what got left on the cutting room floor, according to Kick-Ass director Matthew Vaughn. "There is about 18 minutes of [deleted] footage, which is really good stuff," Vaughn told MTV News recently.