Doctor Who
Doctor Who: Series 5 First Look BBC One Trailer
Blogtor Who
Doctor Who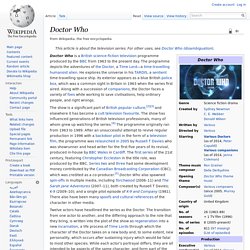 History Licensed media such as novels and audio plays provided new stories, but as a television programme Doctor Who remained dormant until 2003. In September of that year,[20] BBC Television announced the in-house production of a new series after several years of attempts by BBC Worldwide to find backing for a feature film version. The executive producers of the new incarnation of the series were writer Russell T Davies and BBC Cymru Wales Head of Drama Julie Gardner. The programme has been sold to many other countries worldwide (see Viewership). Public consciousness
Born in Swansea, Davies aspired to work as a comic artist in his adult life, until a careers advisor at Olchfa School suggested that he study English literature; he consequently focused on a career of play- and screen-writing. After he graduated from Oxford University, Davies joined the BBC's children's department in 1985 on a part-time basis and worked in varying positions, including writing and producing two series, Dark Season and Century Falls. He left the BBC in the early 1990s to work for Granada Television and later became a freelance writer.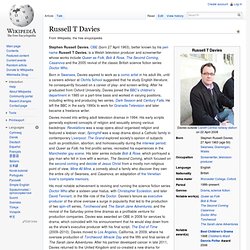 Russell T Davies
Steven Moffat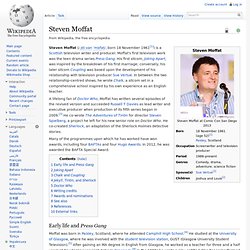 Many of the programmes upon which he has worked have won awards, including four BAFTAs and four Hugo Awards. In 2012, he was awarded the BAFTA Special Award. Early life and Press Gang
Un article de Wikipédia, l'encyclopédie libre. David Tennant David Tennant au Comic-Con 2009. David Tennant est un acteur britannique, né le 18 avril 1971 à Bathgate (Écosse).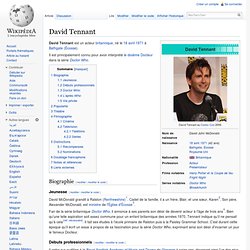 David Tennant
Doctor Who: Children in Need Special 2005
Comic Relief - Catherine Tate & David Tennant
Doctor Who - Children In Need Special: 'Time Crash' 2007
David Tennant & John Barrowman Kiss - SD Comic Con '09
Doctor Who BBC One Christmas Ident 2009 with David Tennant
(born 28 October 1982) [ 1 ] is an English actor. He is known for his role as the eleventh incarnation of the Doctor in the British television series , for which he received a BAFTA Award nomination in 2011. [ 2 ] He initially aspired to be a professional footballer , but spondylosis forced him out of the sport. [ 3 ] After joining the National Youth Theatre and studying Drama and Creative Writing at the University of East Anglia , Smith became an actor in 2003, performing in plays like , , and in London theatres.
Matt Smith (actor)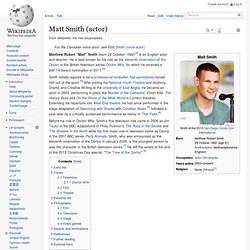 Doctor Who: Series 5 First Look BBC One Trailer
Blogtor Who
The official site has updated with a video of Karen Gillan interviewing Matt Smith - see it in the player below. In it Matt talks about (and shows) his thermal underwear whilst Karen, or 'Kazz' as Matt calls her, exclusively reveals she is not a man.PLEASE NOTE: thanks to those who pointed out an error with the video below. At 2.05 (approx) it pauses, just "fast forward" or click forward to approx. 2.56 where the interview picks up again.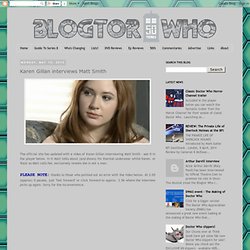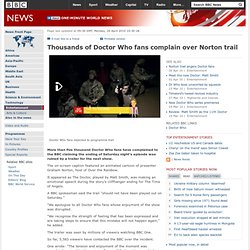 Doctor Who fans objected to programme trail More than five thousand Doctor Who fans have complained to the BBC claiming the ending of Saturday night's episode was ruined by a trailer for the next show. The on-screen caption featured an animated cartoon of presenter Graham Norton, host of Over the Rainbow. It appeared as The Doctor, played by Matt Smith, was making an emotional speech during the story's cliffhanger ending for The Time of Angels. A BBC spokesman said the trail "should not have been played out on Saturday."
Thousands of Doctor Who fans complain over Norton tra
BBC says sorry for Doctor Who's Graham Norton blunder| Showbiz |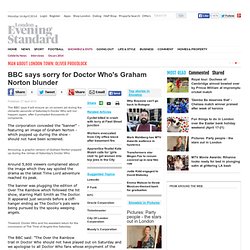 The corporation conceded the "banner" - featuring an image of Graham Norton - which popped up during the show - should not have been screened. Annoying: a graphic version of Graham Norton popped up during the climax of Saturday's Doctor Who Around 5,600 viewers complained about the image which they say spoiled the drama as the latest Time Lord adventure reached its peak. The banner was plugging the edition of Over The Rainbow which followed the hit show, starring Matt Smith as The Doctor.
Gaga for Doctor Who
Doctor Who Crack Appears in Space
Well, the crack didn't really just in space; it's an image from NASA's Spitzer Space Telescope from several years ago. It was notable at the time for looking like a snake slithering across the Milky Way , but the crack is actually a "core of a thick, sooty cloud large enough to swallow dozens of solar systems." But then last week an astronomy blog posted the image as its picture of the day , again finding it interesting for being a "ghost snake." However, some fans saw the image and were reminded of something else: a crack (warning: spoilers!)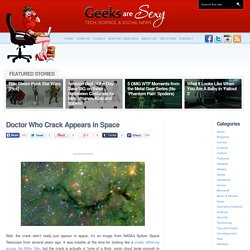 Doctor + Master breif history by ~Elyssiel on deviantART