Web Comics
Comic Genesis - New Worlds. New Dreams.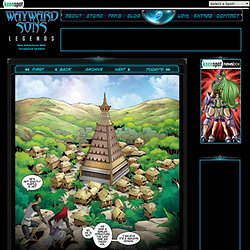 New Adventures WithOccasional Updates Written, Lettered & Createdby Benny R. PowellPencil Artwork by Weilin YangFinishes by Youjun YangColors by Kun Song
Wayward Sons: Legends - Sci-Fi Full Page Webcomic - Updates Daily
The Tales of Kalduras
QC: New Comics Every Monday Through Friday
Welcome to Cat Nine the webcomic - Last updated on Sunday , October 10 , 2010
Tuesday, April 15 — 2:00 PM Sorry about this comic running a bit late. But hey, the first-ever Advance Wars appearance in BitF, and I have the eShop to thank for it. Yes, 2013′s Fire Emblem: Awakening showed me how enjoyable strategy games could be, so I had to try out AW myself upon hearing that it hit the VC. It's good fun, and surprisingly dense in content.
Brawl in the Family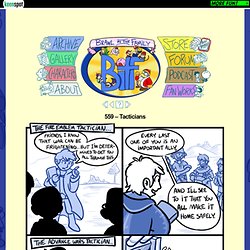 channelATE.com: Comics and Cartoons by Ryan Hudson - Comics and Cartoons by Ryan Hudson
Click to embiggen! He's easily one of the most popular characters in the comic, but along with Rose, he's also one that gave me the most headache. The first thing you should know about Purvous is that he is a real guy.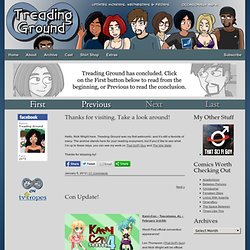 Treading Ground
Rob and Elliot: A webcomic updated Mondays
Costume
Planète bleu, Gaîa, la Terre, peut importe le nom qu'on lui donne elle est là et nous aussi!Et heureusement nous ne sommes pas seul il y a aussi nos amis les animaux. De nombreuses personnes ont un voir plusieurs chien sans connaître des bases théorique d'éducation canine .
Geist Panik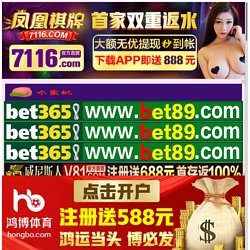 They All Bleed The Same
''It's not MY fault I downloaded programming that made me this way!'' Personally, I can't wait to be replaced by a robot. Not because I'm lazy, but because I really can't wait to see robot engineered jokes. Could you imagine? The cold, mechanical, laser-precision robot sense of humor aimed all-attack-systems-go directly at the human funny bone? It will kill us dead!
AmazingSuperPowers: Webcomic at the Speed of Light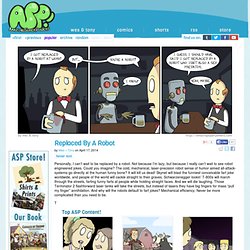 Omake Theater – おまけ劇場
One thing you may have noticed if you have read Megatokyo both online and in the dead tree versions is that there are quite a number of comics in the archive here that appear to be unfinished but show up in Megatokyo Volume 6 in finished, fully hatched and rendered form. Most of these were from the first year of having a new baby in the house and just getting a comic posted was a major feat, but i DID have to finish them for the book. As with many things on this site (coughcharachterpagecough) The one thing i never did was go back and update the web-versions of these comics with the finished, fully hatched versions.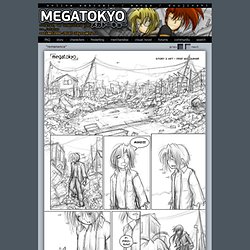 MegaTokyo - relax, we understand j00
Welcome to Rain House- Updates on Mondays
Welcome to the Institute
Imaginary Daughter - Wednesday , March 17 , 2010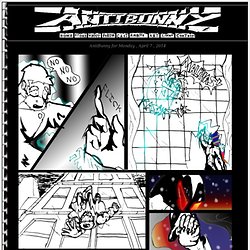 AntiBunny: Updated Sunday WEB-14
New to AntiBunny? Welcome to AntiBunny where you can follow The misadventures of a collection of talking rabbits in the world of Gritty City. Updated Sunday and Thursday. Best viewed at 1024px resolution or higher. This Webcomic is Rated Web-14 for violence, mild swearing, and excessive bunnyness.
Imaginary :: Sunday , August 1 , 2010 :: by Patrick Jalbert
::12/20/2010:: www.imaginary-comic.com And I'm back! As promised, a 12/20 update. The pacing is going to be a little bit weird over the course of the next month, because I'll be both on Holiday break, and on a trip sponsored by my graduate studies.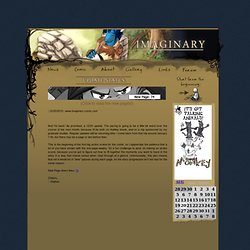 Head Trip - Friday , October 29 , 2010
stamen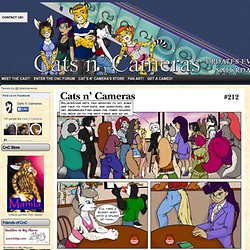 Cats N' Cameras - Just when you thought it was safe to go to the photographer
**Note to our Cameo guests, this strip was a bonus and does NOT count towards your cameo appearances** Hey Readers, Can't help but thank you all enough for the fundraiser support as well as the cameo interest, thanks to all of you helping out I was able to order in Mackey's new tablet a little in advance of the fundraiser completing it's goals. So this weeks comic is brought to you in FULL COLOR !!
Garanos - A dramatic fantasy webcomic with a dash of adventure, gothic horror, and romance for flavor.
Charby the Vampirate : #879 Revenge Backfire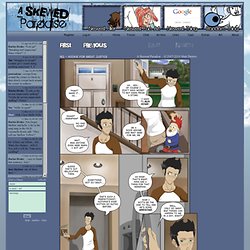 My fellow oddballs, Even with my almost complete silence, I still check in several times a week, to see what little things keep popping up. I do occasionally post a response to people's queries on the Cbox, and check the forum.
A Skewed Paradise - Updates Tuesdays and Fridays
Strays
Supernormal Step - Security System
The Draconia Chronicles - Page 1
MagicKitsune
DreamKeepers comic home
The Meek
O-n-Y Studios
Mystic Revolution--Mondays and Fridays
School Bites
Looking For Group
Cwens Quest (Chapter 11 Page 4 - The stuff everyone knows about)
Big Head Press - Thoughtful Stories, Graphic Novels Online And In Print - Escape From Terra - by Sandy Sandfort, Scott Bieser, and Lee Oaks
Z A P ! Online Comic - Now at ZAPCOMIC.COM
White Noise |
Lowroad Comics- Giselle
[dream*scar] - updates every tuesday and friday
[[ Paradox ]]
Shadowgirls - It's like H.P. Lovecraft meets the Gilmore Girls!
Twokinds - Updates Wednesday
Misfile - A comic by Chris Hazelton - Now Updating Every Weekday
El Goonish Shive
Flipside
Exterminatus Now - Sunday , October 24 , 2010
Eerie Cuties
SNAFU
VG Cats
Ctrl+Alt+Del
The Zombie Hunters