Web Comics
Comic Genesis - New Worlds. New Dreams.
Wayward Sons: Legends - Sci-Fi Full Page Webcomic - Updates Daily
The Tales of Kalduras
QC: New Comics Every Monday Through Friday
Welcome to Cat Nine the webcomic - Last updated on Sunday , October 10 , 2010
Brawl in the Family
channelATE.com: Comics and Cartoons by Ryan Hudson - Comics and Cartoons by Ryan Hudson
Treading Ground
Rob and Elliot: A webcomic updated Mondays
Costume
Geist Panik
They All Bleed The Same
AmazingSuperPowers: Webcomic at the Speed of Light
Omake Theater – おまけ劇場
MegaTokyo - relax, we understand j00
Welcome to Rain House- Updates on Mondays
Welcome to the Institute
Imaginary Daughter - Wednesday , March 17 , 2010
AntiBunny: Updated Sunday WEB-14
Imaginary :: Sunday , August 1 , 2010 :: by Patrick Jalbert
Head Trip - Friday , October 29 , 2010
stamen
Cats N' Cameras - Just when you thought it was safe to go to the photographer
Hey Readers, Sorry for the week delay, but in return we bring you, a significantly longer detail filled return strip now illustrated by Mackey Graphics of TJA, FA, and Inkbunny. Looks like it's down to the nitty gritty of their little office competition, and everyone's definitely taking it seriously! I'd also like to give a shout out to tobi3B , and Henry K9 for making an appearance in this week's strip, keep an eye out for them as the battle progresses.
Garanos - A dramatic fantasy webcomic with a dash of adventure, gothic horror, and romance for flavor.
Charby the Vampirate : #879 Revenge Backfire
A Skewed Paradise - Updates Tuesdays and Fridays
Strays
Supernormal Step - Security System
The Draconia Chronicles - Page 1
MagicKitsune
DreamKeepers comic home
The Meek
O-n-Y Studios
Mystic Revolution--Mondays and Fridays
School Bites
Looking For Group
Cwens Quest (Chapter 11 Page 4 - The stuff everyone knows about)
Strip 994 - Click on page above to goto the next page. -- First Seen: 2012-07-07 Escape From Terra is updated with new pages every Monday through Friday. Holiday break QUANTUM VIBE is taking a break for the next several days, to give the creators a chance to catch their breath and have a few days off the hamster wheel. We will resume updates on Monday, January 6. Thanks for reading and we'll see you again soon! Oaks' Thunder Monkey on Kindle
Big Head Press - Thoughtful Stories, Graphic Novels Online And In Print - Escape From Terra - by Sandy Sandfort, Scott Bieser, and Lee Oaks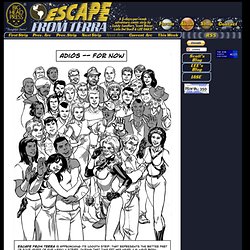 Z A P ! Online Comic - Now at ZAPCOMIC.COM
White Noise |
Lowroad Comics- Giselle
[dream*scar] - updates every tuesday and friday
[[ Paradox ]]
Shadowgirls - It's like H.P. Lovecraft meets the Gilmore Girls!
Twokinds - Updates Wednesday
Misfile - A comic by Chris Hazelton - Now Updating Every Weekday
El Goonish Shive
Flipside
Exterminatus Now - Sunday , October 24 , 2010
Eerie Cuties
SNAFU
VG Cats
Ctrl+Alt+Del
The Zombie Hunters