2nd
directdaily
Ford's 10 trends expected to influence consumers and brands in the coming year include: 1. Innovation's Quiet Riot: Fast-paced and disruptive innovation is becoming increasingly institutionalized and ubiquitous – fundamentally changing the way consumers work, play and communicate
The Hidden Persuader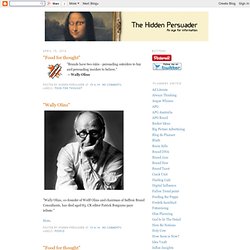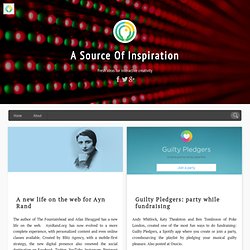 A Source Of Inspiration
The author of The Fountainhead and Atlas Shrugged has a new life on the web. AynRand.org has now evolved to a more complete experience, with personalized content and even online classes available. Created by Blitz Agency, with a mobile-first strategy, the new digital presence also renewed the social destination on Facebook, Twitter, YouTube, Instagram, Pinterest and LinkedIn to provide […] Andy Whitlock, Katy Theakston and Ben Tomlinson of Poke London, created one of the most fun ways to do fundraising: Guilty Pledgers, a Spotify app where you create or join a party, crowdsourcing the playlist by pledging your musical guilty pleasure. Also posted at Osocio.
ADivertido / Interactive Ideas /
More and more people are interested in finding ways to make income online through work at home. Unfortunately, some online business opportunities are scams, which makes it hard for the novice to know how to get started. The earning potential is certainly there; there's no question of that! But in order to tap into it, you need to know the right avenues. If you are exhausted from seemingly chasing nothing but your own tail, there IS hope!