Ressources
MASHUP CONTENU
Nuitdemalade.org : Inception n'a qu'à bien se tenir. Il nous arrive à tous de nous réveiller un matin en nous demandant « Mais pourquoi j'ai rêvé de çà cette nuit ?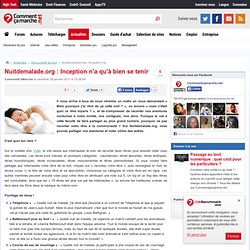 », ou encore « mais c'était quoi ce rêve bizarre ? », et de s'empresser de raconter nos aventures nocturnes à notre moitié, nos collègues, nos amis. Puisque le net a cette faculté de faire partager au plus grand nombre, pourquoi ne pas raconter votre rêve à la communauté ? Sur Nuitdemalade.org, vous pouvez partager vos aventures et noter celles des autres. C'est quoi ton rêve ? Quantter. PUSH Burton. Maîtriser son budget en photographiant les tickets de caisse | Proxima Mobile : applications et services gratuits sur téléphone mobile pour les citoyens.
MinuteDock — Time Tracking using Xero. Self Tracking. Track My Life for Android™ Track Your Happiness. Keep Track of your Daily Life with TapDo App for iPhone | Best Apps -The absolute 1000 best apps for iPhone, Android. Techman | May 06, 2010 | Comments 0 Task lists are things that people all over the world use because they are a great way to get on board with what you need to do for the day or the week or the month or in some cases even the year.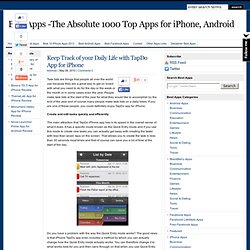 People make task lists at the start of the year for what they would like to accomplish by the end of the year and of course many people make task lists on a daily basis. If you are one of these people, you could definitely enjoy TapDo app for iPhone. Zeo Personal Sleep Coach - How it Works. TheCarrot.com - Track your life for iPhone, iPod touch, and iPad on the iTunes App Store.
Description Now you can track all your health, nutrition, and fitness with one convenient journal.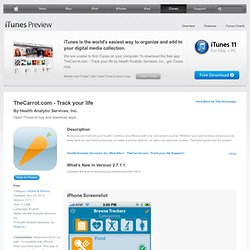 Whether you want to keep a food journal, keep tabs on your blood pressure, or make sure you stick to—or start—an exercise routine, TheCarrot gives you the power! With our free, anonymous service, you'll get an integrated view of your life to help you achieve your goals and just plain feel better. Our secure (HIPAA compliant) trackers are a convenient and intuitive way to enter data with pictures. Fitbit. Top 10 Free iPhone Apps to Lose Weight. Even if you didn't make a resolution to lose weight this year, you probably have some fitness goals you would like to achieve in the new year.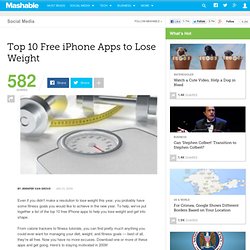 To help, we've put together a list of the top 10 free iPhone apps to help you lose weight and get into shape. From calorie trackers to fitness tutorials, you can find pretty much anything you could ever want for managing your diet, weight, and fitness goals — best of all, they're all free. Now you have no more excuses. Download one or more of these apps and get going. Here's to staying motivated in 2009! Proxima Mobile : applications et services gratuits sur téléphone mobile pour les citoyens. Les objets intelligents et connectés (balance wifi, tensiomètre connecté au iOS Devices - iPhone,iPad,iPod - et BabyMonitor) - Accueil. Mesurez.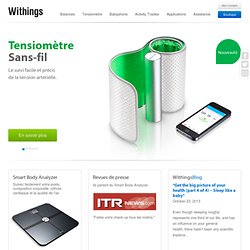 Progressez. Un smart tracker de 8 grammes pour analyser votre activité 24h/24 et 7j/7,mesurer votre rythme cardiaque et améliorer votre santé.En savoir plus. Le journal télévisé de votre naissance.
---