Ressources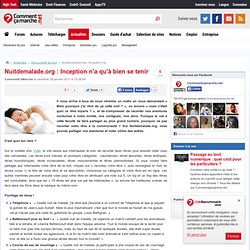 Il nous arrive à tous de nous réveiller un matin en nous demandant « Mais pourquoi j'ai rêvé de çà cette nuit ? », ou encore « mais c'était quoi ce rêve bizarre ?
Nuitdemalade.org : Inception n'a qu'à bien se tenir
Quantter
Yahoo! et ING Direct s'associent pour créer MonnaieTime, nouvelle chaîne dédiée à la finance personnelle sur Yahoo! Finance
Maîtriser son budget en photographiant les tickets de caisse | Proxima Mobile : applications et services gratuits sur téléphone mobile pour les citoyens
Samedi 29 janvier 2011 - Catégorie(s) : Usages , Vie Locale . La jeune pousse Qeiru développe une application qui permet , en prenant une photo des tickets de caisse, de compiler l'ensemble des informations sur les achats effectués. Cette liste des achats effectués permet de retrouver les produits achetés, regroupés par catégories, de visualiser ses dépenses par catégories de produits, de nouvelles listes de courses, en tenant compte, éventuellement, des variations de prix et des réductions.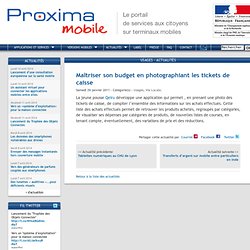 MinuteDock — Time Tracking using Xero
Self Tracking
Fumer Tue, l'application qui vous sauvera la vie est sur Facebook
Le webzine de l'Assistance Publique - Hôpitaux de Paris (AP-HP) : informer sur la haute technologie médicale
Track My Life for Android™
Track Your Happiness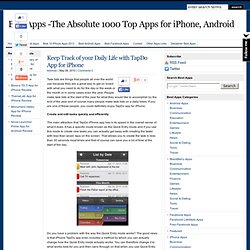 techman | May 06, 2010 | Comments 0
Keep Track of your Daily Life with TapDo App for iPhone | Best Apps -The absolute 1000 best apps for iPhone, Android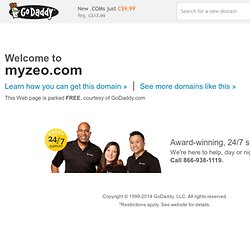 Zeo Personal Sleep Coach - How it Works
Track your sleep with scientifically proven technology
TheCarrot.com - Track your life for iPhone, iPod touch, and iPad on the iTunes App Store
Wesabe iPhone Application Lets Users Track Their Money On the Go » My Digital Life
Wesabe has introduced an iPhone application for iPhone or iPod Touch users to manage or track their money. With this application, the iPhone and iPod Touch users can view all of their bank and credit card accounts in one place, and track their cash spending while on the go. Beside that, they also allow to edit, categorize, tag their purchase, set up and monitor spending targets through their iPhone.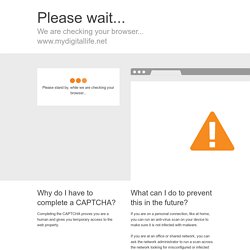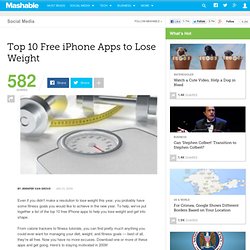 Top 10 Free iPhone Apps to Lose Weight
Even if you didn't make a resolution to lose weight this year, you probably have some fitness goals you would like to achieve in the new year. To help, we've put together a list of the top 10 free iPhone apps to help you lose weight and get into shape.
BrandYou: What's Your Professional Brand
Les objets intelligents et connectés (balance wifi, tensiomètre connecté au iOS Devices - iPhone,iPad,iPod - et BabyMonitor) - Accueil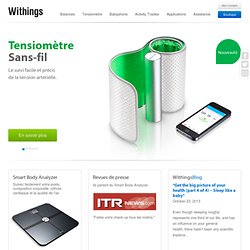 Vivez une expérience optimale grâce aux services des partenaires Withings En savoir plus Maintenant disponible
Dailymotion vous propose de découvrir ce qu'il s'est passé le jour de votre naissance au travers des journaux télévisées de l'époque, en parternariat avec l'Institut National de l'Audiovisuel Vous êtes né(e) le : voir le journal il y a 10 ans il y a 20 ans il y a 30 ans Le journal du lundi 31 mars 2003 n'étant pas disponible, celui du vendredi 4 avril 2003 vous est présenté à la place Vous pouvez accéder actuellement aux journaux télévisés de 1971 à 1974 (années incomplètes), puis du 13 février 1976 au 31 décembre 2008. Cependant dans ces périodes, certains journaux peuvent manquer en raison de problèmes techniques au moment de leur enregistrement, ou pour cause de grève.