Decentralized Social Web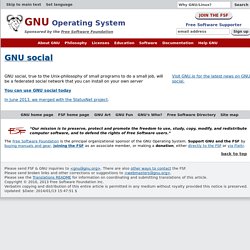 GNU social, true to the Unix-philosophy of small programs to do a small job, will be a decentralized social network that you can install on your own server What if you could authorize your server to reveal as much, or as little information about you to other sites, as you wish... one time, one day, or forever? You can use GNU social today — install the latest release (1.1.1) or get the very latest code by cloning the code from gitorious (requires a git client).
Group:GNU Social - LibrePlanet
Movim : un réseau social libre et décentralisé | Walkyr
The Internet brings us a totally new social experience Back then,with a simple email adress you could talk with the whole world Today, you need to register on Skype, Google Hangout, Facebook, Vine, WhatsApp, Twitter to share with your friends Let's change that ! What if we share the same network ?