Cool Videos
The Count Censored. Most Amazing Time Lapse Video of Milky Way Ever Made. Seriously. | ShutterSalt. Cool Party Tricks&Video. Ana Somnia - lights out! Flash Animated Philosophy From South Park Creators | Cold Hard Flash: Flash...
Flash Animated Philosophy From South Park Creators Trey Parker, one of the creators of South Park, was raised in Colorado, where his father attempted to teach him Buddhism.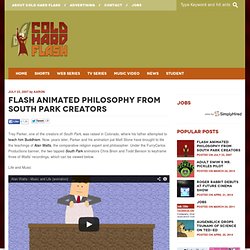 Now, years later, Parker and his animation pal Matt Stone have brought to life the teachings of Alan Watts, the comparative religion expert and philosopher. Under the FurryCarlos Productions banner, the two tapped South Park animators Chris Brion and Todd Benson to keyframe three of Watts' recordings, which can be viewed below. Life and Music.
Rube Golderberg device in the forest will astound, give you serenity now -... (CBS) - I am really geeking out over this one!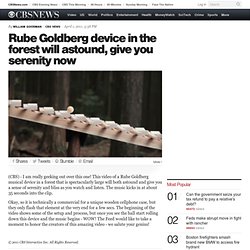 This video of a Rube Goldberg musical device in a forest that is spectacularly large will both astound and give you a sense of serenity and bliss as you watch and listen. The music kicks in at about 35 seconds into the clip. Okay, so it is technically a commercial for a unique wooden cellphone case, but they only flash that element at the very end for a few secs. The beginning of the video shows some of the setup and process, but once you see the ball start rolling down this device and the music begins - WOW! 15 Amazing Animated Short films. We all love short animated films, but creating short film is very hard task.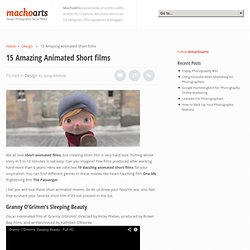 Putting whole story in 5 to 10 minutes is not easy. Can you imagine? Few films produced after working hard more than 6 years! Here we collected 15 dazzling animated short films for your inspiration. World's fastest piano juggler. Example - Watch The Sun Come Up (Devil's Gun Zeitgeist Remix) Extreme Sheep LED Art. PIXELS by PATRICK JEAN. - une vidéo Creación. FACE VS: WATERMELON = BRUTAL from jeffwoodward01. Amazing gymnast pulls off an amazing sequence of flips :: Vidmax.com.
---