Cool Videos
The Count Censored
Flash Animated Philosophy From South Park Creators | Cold Hard Flash: Flash...
Rube Golderberg device in the forest will astound, give you serenity now -...
We all love short animated films , but creating short film is very hard task. Putting whole story in 5 to 10 minutes is not easy. Can you imagine? Few films produced after working hard more than 6 years! Here we collected 15 dazzling animated short films for your inspiration. You can find different genres in these movies like heart-touching film One life , frightening film The Passenger .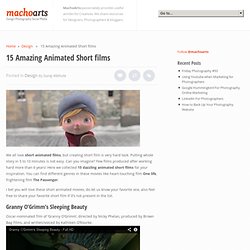 World's fastest piano juggler
Example - Watch The Sun Come Up (Devil's Gun Zeitgeist Remix)
FACE VS: WATERMELON = BRUTAL from jeffwoodward01