Books
25 Banned Books That You Should Read Today. Almost since the dawn of publishing, books have been banned for one reason or another.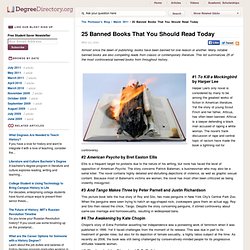 Many notable banned books are also compelling reads from classic or contemporary literature. This list summarizes 25 of the most controversial banned books from throughout history. #1 To Kill a Mockingbird by Harper Lee. Read Poker Books at Work is dedicated to reviewing the Top Poker Books. Nowhere Land Books Forum :: Log in. Twilight Saga Audiobook | Audio Book Free Download | Kill Mockingbird | Beckham at Beckhamsite.com. LibriVox.
Free Audio Books - Philosophy - Download mp3 and iPod format today! Le Petit Prince By Antoine de Saint-Exupéry. A Project Gutenberg of Australia eBook Title: Le Petit Prince Author: Antoine de Saint-Exupéry (1900-1944) eBook No.: 0300771h.html Edition: 2 Language: French Character set encoding: Latin-1(ISO-8859-1)--8 bit (html) Date first posted: April 2003 Date most recently updated: August 2009 Project Gutenberg of Australia eBooks are created from printed editions which are in the public domain in Australia, unless a copyright notice is included.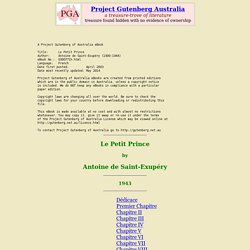 We do NOT keep any eBooks in compliance with a particular paper edition. Copyright laws are changing all over the world. Be sure to check the copyright laws for your country before downloading or redistributing this file. This eBook is made available at no cost and with almost no restrictions whatsoever. You may copy it, give it away or re-use it under the terms of the Project Gutenberg of Australia License which may be viewed online at To contact Project Gutenberg of Australia go to.
The Book Seer | What should I read next.
Mysteries of Udolpho.
---