Technology
Festo Didactic
Share on Tumblr
Vuzix's "Smart" Sunglasses Merge Virtual Information With Real World
Quantum Levitation 720p
Hangar.org | Centre de producció d'Arts Visuals
Rick Chin is the director of product innovation at SolidWorks, where he develops new products and researches how technology will make us smarter, simplify daily tasks and seamlessly fit into our everyday lives. In 20 years our technology will reach a level of personalization that will enhance every moment of our lives.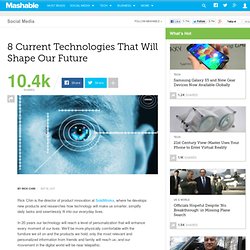 8 Current Technologies That Will Shape Our Future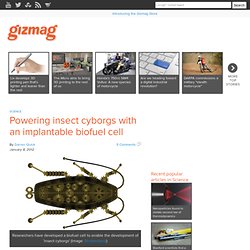 Powering insect cyborgs with an implantable biofuel cell
Research into developing insect cyborgs for use as first responders or super stealthy spies has been going on for a while now. Most research has focused on using batteries, tiny solar cells or piezoelectric generators to harvest kinetic energy from the movement of an insect's wings to power the electronics attached to the insects.
An insect fitted with a piezoelectric generator to harness energy from the insect's wings (Image: Erkan Aktakka) Image Gallery (2 images) Insects have served as the inspiration for a number of Micro Air Vehicles (MAVs) that could be deployed to monitor hazardous situations without putting humans in harm's way.
Harvesting energy from insects in quest to create tiny cyborg first responders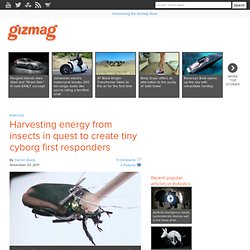 Gravity Stool on Vimeo
The Digital Section of My Resume - QR Code
IMTR
Mogees - Gesture recognition with contact-microphones