Wine
As we enter a new decade, which wines are in tune with the economy and culture, which are missing the moment, and which are about to falter? Matt Kramer Posted: January 5, 2010 As a new year—and a new decade—begins, it's impossible not to think about time. But as I was driving, listening to my local jazz station on the radio, I found myself more struck by the power of timing than by time itself. What triggered this was hearing one of the Great American Songbook standards sung to exquisite perfection.
Timing Is Everything | Drinking Out Loud | News & Features | Win Borgőz
Hol, vagy leginkább hová tartunk, mit tudunk most, mit őrzünk, rejtünk a múltból, vagy mit tartogatunk még a jövőre nézve magunkban? Ezeket a kérdéseket időnként mindenki felteszi magának - magáról. A válaszokból pedig sok mindenre lehet következtetni. Például arra, mivel is töltöttük (meg) eddigi életünket. Vagy ha úgy tetszik, mennyire, és milyenre színeztük ki azokat a kontúrokat, amelyeket felskicceltek számunkra életünk legelején.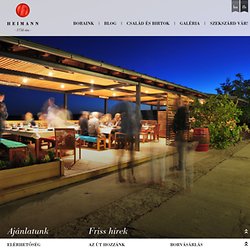 Heimann Zoltán "Az Év Bortermelője 2013" díj jelöltjének bemutatkozó beszéde "A cím a díjazott bortermelő több éven át tartó kiemelkedő szakmai teljesítményéért, borainak állandó kiváló minőségéért, azok hazai és külföldi sikereiért adományozható. (…) Az állandó kiváló minőségen kívül számítanak a borversenyen elért eredmények, a marketing, a külcsín és a belbecs, a szerethetőség, a borászat iránt keltetett szimpátia és nem utolsó sorban a borász személye." – Kivonat a Magyar Bor Akadémia "Év Bortermelője Magyarországon" szabályzatából Budapest, 1998. "Jó estét! Nálunk nehéz volt az idei év.
Heimann Családi Birtok
Pannonhalmi Apátsági Pincészet
winetest.eu - Édes élet aszúkkal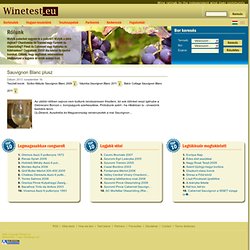 Sauvignon Blanc plusz Dátum: 2013. szeptember 16. Tesztelt borok: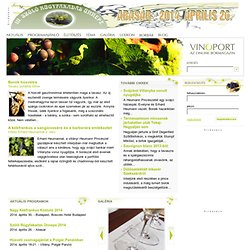 Vinoport :: az online bormagazin
Másnapi olaszrizling ebéddel bővült a program Az Olaszrizling szerintünk egy borásztalálkozóból nőtte ki magát. Jásdi István jó pár évvel ezelőtt hívta életre ezt az olaszrizling-kóstolót. A cél az volt, hogy borász kollégáival cseréljenek tapasztalatokat annak érdekében, hogy a növekvő minőség és a nagyobb fokú tudatosság által újra a magasba emelkedhessen az olaszrizling szőlőfajta...
Esszencia Borszaküzlet, webáruház - bor-bolt.hu
I will take any suspense out of the question. Yes food and wine pairings can make for an enlightened experience. After sitting at the family holiday table, and watching the adults happily drinking a Napa Cabernet with their seafood chowder, I began to think about the pairing of food and wine. I mean, the goal of pairing the proper wine with the proper food is to enhance the enjoyment of both. The plates were scraped clean, and the wine was gone.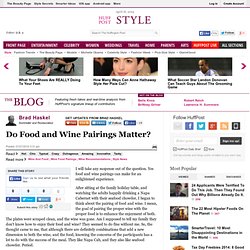 Brad Haskel: Do Food and Wine Pairings Matter?
Wine Literature of the World :: State Library of South Australia
This site has been created by the State Library of South Australia to highlight its wonderful collections of wine-related materials, the largest in the southern hemisphere, if not the world. Their origins can be traced back to 1834 in London prior to European settlement of South Australia. They now encompass thousands of items including books, pamphlets, wine labels, company records and many other examples of exquisite oenography. All items referred to in this website, unless otherwise indicated, are held in the State Library's collections, and selections from them are being digitised as images.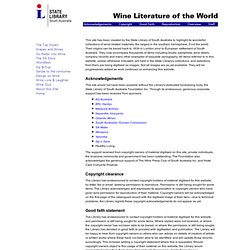 Family Winemakers of California
BIG YEAR FOR WATER. Drought, bond & elections 2014 is stacking up to be a year when water politics once again commands the spotlight. Water experts are projecting a third dry year for the state, which will further strain supplies for urban and agriculture users, and environmental needs. Already the Department of Water Resources is looking to augment supplies with water transfers. And, the oft-postponed water bond will likely be recast and targeted for the November elections just when the Assembly, Senate and all constitutional officers will be on the ballot.