Wine
Timing Is Everything | Drinking Out Loud | News & Features | Win. Borgőz. Heimann Családi Birtok. Pannonhalmi Apátsági Pincészet. Winetest.eu - Édes élet aszúkkal. Vinoport :: az online bormagazin. Esszencia Borszaküzlet, webáruház - bor-bolt.hu. Brad Haskel: Do Food and Wine Pairings Matter? I will take any suspense out of the question.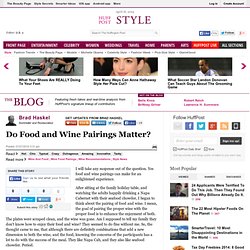 Yes food and wine pairings can make for an enlightened experience. After sitting at the family holiday table, and watching the adults happily drinking a Napa Cabernet with their seafood chowder, I began to think about the pairing of food and wine. I mean, the goal of pairing the proper wine with the proper food is to enhance the enjoyment of both. The plates were scraped clean, and the wine was gone. Wine Literature of the World :: State Library of South Australia. This site has been created by the State Library of South Australia to highlight its wonderful collections of wine-related materials, the largest in the southern hemisphere, if not the world.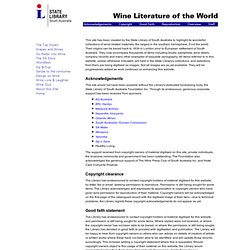 Their origins can be traced back to 1834 in London prior to European settlement of South Australia. They now encompass thousands of items including books, pamphlets, wine labels, company records and many other examples of exquisite oenography. All items referred to in this website, unless otherwise indicated, are held in the State Library's collections, and selections from them are being digitised as images. Family Winemakers of California.
---