אנגלית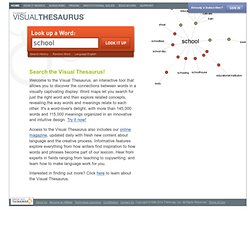 Welcome to the Visual Thesaurus, an interactive tool that allows you to discover the connections between words in a visually captivating display. Word maps let you search for just the right word and then explore related concepts, revealing the way words and meanings relate to each other. It's a word-lover's delight, with more than 145,000 words and 115,000 meanings organized in an innovative and intuitive design. Try it now!
visualthesaurus
Lyricsgaps
אנגלית שטף קריאה
Oxford Practice Grammar
Business English grammar and vocabulary exercises: English ...