Labor
How Much Protection Does a College Degree Afford?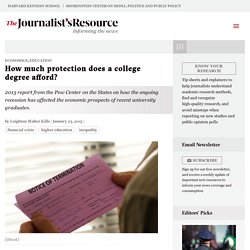 In the United States, higher education has long been seen as a way to move up the economic ladder , but recent trends have complicated the picture. Research has shown that attendance rates for women are on the rise , while those for men are falling. Education can also mean significant debt , and that can affect early career and lifestyle choices . The for-profit sector is also growing rapidly, but the outcomes of students at such institutions have been shown to be sometimes worse than at traditional nonprofit colleges.
Democratic mayors challenge teachers unions in urban political shift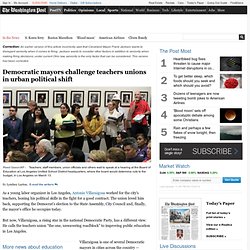 Villaraigosa is one of several Democratic mayors in cities across the country — Chicago, Cleveland, Newark and Boston, among them — who are challenging teachers unions in ways that seemed inconceivable just a decade ago. "This is a very, very interesting political situation that is way counterintuitive," said Charles Taylor Kerchner , who has written two books about teachers unions. At at time when most Americans believe that U.S. education is imperiled, and cities are especially struggling to improve schools, the tension between the mayors and the unions is causing a fundamental realignment of two powerful forces in urban politics.
By SUDEEP REDDY In California, former auto worker Maria Gregg was out of work five months last year before landing a new job—at a nearly 20% pay cut. In Massachusetts, Kevin Cronan, who lost his $150,000-a-year job as a money manager in early 2009, is now frothing cappuccinos at a Starbucks for $8.85 an hour. In Wisconsin, Dale Szabo, a former manufacturing manager with two master's degrees, has been searching years for a job comparable to the one he lost in 2003. He's now a school janitor.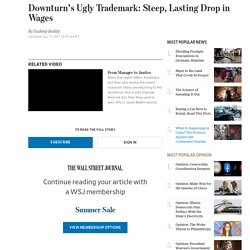 Downturn's Ugly Trademark: Steep, Lasting Drop in Wages
Robert Barro: The Folly of Subsidizing Unemployment
By ROBERT BARRO Congressman John Boehner recently suggested that President Obama replace his top economic advisers. I think he may have a point. The economic "recovery" has been disappointing, to put it mildly, and it has become increasingly clear that the blame lies with the policies of the Obama administration, not with those of its predecessor. In general, the current administration has been too focused on expanding government, redistributing more from rich to poor, and stimulating aggregate demand. I have previously criticized the stimulus package as cost-ineffective.
By JON HILSENRATH Washington's response to the country's stubbornly high unemployment will depend in part on who wins an increasingly intense debate over its causes. One side says more government spending to stimulate the economy can reduce joblessness. The other says it can't. European Pressphoto Agency
Two Camps Differ on How to Tackle Stubborn Joblessness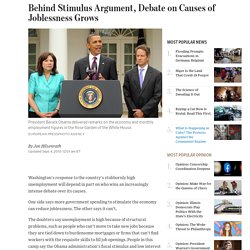 December 21, 2010 — Data from the Social Security Administration's "net compensation" reports derived from wage income reported on W-2's provide a revealing look at how income is distributed in the United States (although, since non-wage income is not reported, high-end income is still understated). In the first chart, each income band has a single bar showing the workers in the band as a percentage of all workers (the orange part) and the wages of workers in the income as a percentage of the wages of all workers (the blue part). At the lowest end, the percentage of workers is much higher than the percentage of total wages; at the high end of the income spectrum, the converse is true.
Data from W-2's allow closer look at income higher on the wage scale