What's next?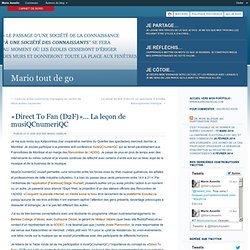 Je me suis rendu aux Katacombes (bar coopérative membre du Quartier des spectacles) mercredi dernier, à Montréal. Je voulais participer à la première anti-conférence musiQCnumeriQC qui se tenait parallèlement aux Francofolies de Montréal et en marge des Rencontres de l'ADISQ .
«Direct To Fan (D2F)»... La leçon de musiQCnumeriQC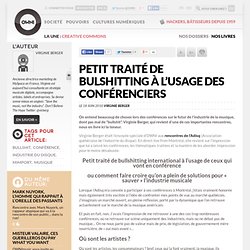 Petit traité de bulshitting à l'usage des conférenciers » Article » OWNI, Digital Journalism
On entend beaucoup de choses lors des conférences sur le futur de l'industrie de la musique, dont pas mal de "bullshit". Virginie Berger, qui revient d'une de ces importantes rencontres, nous en livre ici la teneur. Virginie Berger était l'envoyée spéciale d'OWNI aux rencontres de l'Adisq (Association québécoise de l'industrie du disque).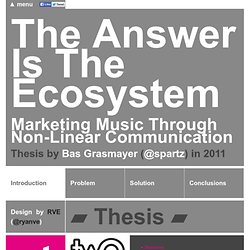 The Answer Is The Ecosystem: Introduction.
I've had the great pleasure to be invited to midem 's Visionary Monday to speak about my thesis.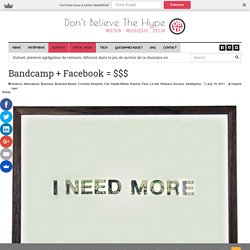 Bandcamp + Facebook = $$$
Comme vous pouvez le lire régulièrement sur le site , et comme nous le répétons régulièrement au sein de notre agence en stratégie, developpement et management, on pourrait définir la promotion digitale sous la forme de 6 étapes basiques : 1. Création d'un site web 2.