Cool Stuff
mini Rotary Engine going 10,000rpm
CONSTRUCCION DE UN MOTOR EN SEMIESTRELLA CORAZON 45º
El motor V-12 más pequeño del mundo.
Autos Insider | Chrysler to debut its 8-speed transmission | The Detroit News
Artist Showcase: Philip Brunner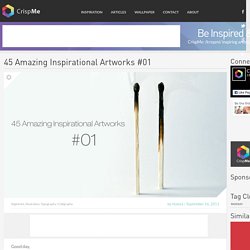 Good day, In this post you will see some of the best artworks found on the Internet that are inspiring.
45 Amazing Inspirational Artworks #01
25 Stunning HDR Wallpapers
Technology - How to Make Instructables
Blue Sky's I'm Watch - Elizabeth Woyke
Ridiculously detailed pencil drawings - leenks.com
Awesome Art From Paper Pictures
Creative things Pictures
Burning Man 2010 on the Behance Network
launch_vernacotola.jpg from nasa.gov
改造版テオ・ヤンセン Theo Jansen のミニビースト 大人の科学M Vol.30
Amazing Trick - Video
Pop Up Card . Just Piece of Paper . Amazing Flower.