Cool Stuff
mini Rotary Engine going 10,000rpm
CONSTRUCCION DE UN MOTOR EN SEMIESTRELLA CORAZON 45º
El motor V-12 más pequeño del mundo.
Artist Showcase: Philip Brunner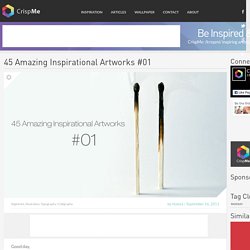 Good day, In this post you will see some of the best artworks found on the Internet that are inspiring. We collect them over a period of time and showcase them. We will post such posts, either daily or either weekly. But keep an eye on the site to see some more amazing inspirational artworks like these! The credit for the following artwork goes to:
45 Amazing Inspirational Artworks #01
25 Stunning HDR Wallpapers
Technology - How to Make Instructables
Blue Sky's I'm Watch - Elizabeth Woyke
Ridiculously detailed pencil drawings - leenks.com
Awesome Art From Paper Pictures
Creative things Pictures
Burning Man 2010 on the Behance Network
launch_vernacotola.jpg from nasa.gov
改造版テオ・ヤンセン Theo Jansen のミニビースト 大人の科学M Vol.30
Amazing Trick - Video
Pop Up Card . Just Piece of Paper . Amazing Flower.