Outils web
Immersion: a people-centric view of your email life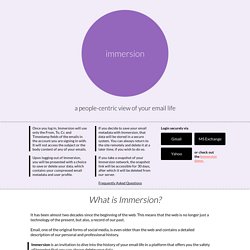 It has been almost two decades since the beginning of the web. This means that the web is no longer just a technology of the present, but also, a record of our past. Email, one of the original forms of social media, is even older than the web and contains a detailed description of our personal and professional history. Immersion is an invitation to dive into the history of your email life in a platform that offers you the safety of knowing that you can always delete your data.
Olympe Network - Hébergement gratuit et sans publicité - Cloud computing gratuit
Ressources sur le SEO: 10 blogs en anglais à consulter | SEO / SMO
Internet En scannant ce QR Code on accède au lien Internet qu'il contient. Un tel QR Code n'est pas éditable.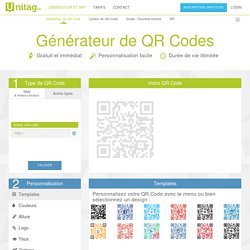 Websico : le monde merveilleux du WYSIWYG | Technologie
Create your own personalized RSS feeds
URLinfo beta |
Wufoo: Online Form Builder - Create Web Forms & Surveys