Cloud
Design. Outils web. L'annuaire d'applications SaaS B2B Welovesaas. Code School - TryRuby. Learn to code. Apps Marketplace. Dropbox - Simplify your life. File Sync & Online Backup - Access and File Sharing from Any Device. Box | Simple collaboration en ligne : Stockage de fichiers en ligne, remplacement du FTP, espaces de travail des équipes. Le cloud, point de passage obligé des stars du Web.
Louer des infrastructures informatiques, comme le proposent Amazon et d'autres acteurs du cloud, peut aider les jeunes stars du Web à percer.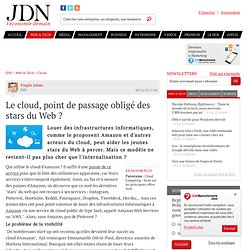 Mais ce modèle ne revient-il pas plus cher que l'internalisation ? Qui utilise le cloud d'Amazon ? Il suffit d'une panne de ce service pour que la liste des utilisateurs apparaisse, car leurs services s'interrompent également. Ainsi, au fur et à mesure des pannes d'Amazon, on découvre que ce sont les dernières "stars" du web qui ont recours à ses services : Instagram, Pinterest, HootSuite, Reddit, Foursquare, Dropbox, Tweetdeck, Heroku... tous ces jeunes sites ont pour point commun de louer des infrastructures informatiques à Amazon via son service de cloud public de type IaaS, appelé Amazon Web Services ou "AWS ". Alors, sans Amazon, pas de Pinterest ?
---