Cloud
L'annuaire d'applications SaaS B2B Welovesaas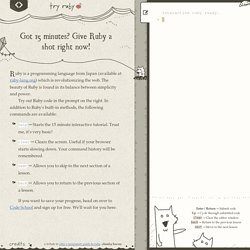 Ruby is a programming language from Japan (available at ruby-lang.org ) which is revolutionizing the web. The beauty of Ruby is found in its balance between simplicity and power. Try out Ruby code in the prompt on the right.
Apps Marketplace
Easily encrypt and decrypt sensitive files As both work and personal life become more mobile, your data is in more places than ever. DataNow Vault is a free utility from AppSense Labs that makes it easy to encrypt and decrypt your most sensitive files on your Mac or Windows PC. DataNow Vault is the perfect companion to our popular DataNow app for iPhone and iPad. As files move between your computer, iPad, iPhone, and cloud storage services, the added layer of security provided by DataNow Vault offers peace of mind without sacrificing convenience. Capabilities
labs - Data Locker - AppSense
Louer des infrastructures informatiques, comme le proposent Amazon et d'autres acteurs du cloud, peut aider les jeunes stars du Web à percer. Mais ce modèle ne revient-il pas plus cher que l'internalisation ? Qui utilise le cloud d'Amazon ? Il suffit d'une panne de ce service pour que la liste des utilisateurs apparaisse, car leurs services s'interrompent également. Ainsi, au fur et à mesure des pannes d'Amazon, on découvre que ce sont les dernières "stars" du web qui ont recours à ses services : Instagram, Pinterest, HootSuite, Reddit, Foursquare, Dropbox, Tweetdeck, Heroku... tous ces jeunes sites ont pour point commun de louer des infrastructures informatiques à Amazon via son service de cloud public de type IaaS, appelé Amazon Web Services ou "AWS ". Alors, sans Amazon, pas de Pinterest ?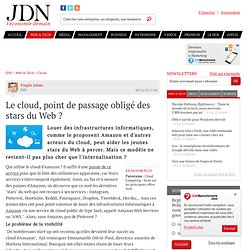 Le cloud, point de passage obligé des stars du Web ? - JDN Web & Tech