AnonymouS & LulzSec
Anonymous - Idée Dangereuse #1 TYLER - Project Mayhem 2012 #PM2012
interview_rules
LOIC
Un article de Wikipédia, l'encyclopédie libre. Pour le prénom, voir Loïc LOIC, pour Low Orbit Ion Cannon (qui peut être traduit par « canon à ion de basse orbite »), est une application de test de réseau, écrite en C# et développée par Praetox Technologies.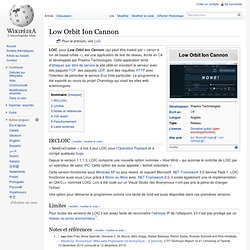 AnonymousSecurityStarterHandbook.pdf (Objet application/pdf)
#anonymousaction : Chat on anonymousaction IRC channel
#opnewblood : Chat on opnewblood IRC channel
AnonOps (Anonymous Operations) IRC is an international communication platform frequented by Anonymous and other activists. You can join our network using your own IRC client or our webchat. Have questions or need connection help?
Radio Payback
manifestoh.jpg (Image JPEG, 1182x692 pixels) - Redimensionnée (85%)