Gladwell
Pour le New Yorker, Malcolm Gladwell (blog) a rédigé une brillante mise au point sur les différences entre l'activisme en ligne et l'activisme réel, dans un article intitulé "Petit changement : pourquoi la révolution ne sera pas twittée" où il montre les limites des organisations en réseaux comparés aux structures hiérarchiques classiques. Pour accomplir sa démonstration, Malcolm Gladwell nous plonge dans l'histoire politique des Etats-Unis, pour nous aider à mieux comprendre comment, politiquement, les différences de structuration de la contestation induisent des effets qui n'ont rien à voir les uns avec les autres. Démonstration.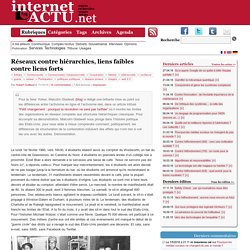 Les réseaux sociaux ne peuvent entrainer un réel engagement social, un activisme IRL.
Gladwell, Réseaux sociaux et Slacktivisme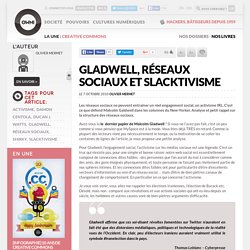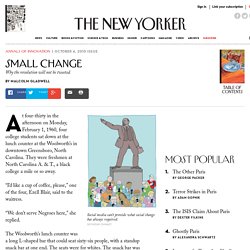 At four-thirty in the afternoon on Monday, February 1, 1960, four college students sat down at the lunch counter at the Woolworth's in downtown Greensboro, North Carolina. They were freshmen at North Carolina A. & T., a black college a mile or so away.
Search