Organizing
The other day I found this gorgeous scarf in a Charity Shop for 50p. I adored the print so I bought it, but it just didn't work with anything. Folded up and wrapped around my neck you couldn't see the print, as a headscarf I looked like one of those scary religious people who used to get on my train home from school and the shape wasn't quite right for just draping round my neck, so I was stumped. Then, whilst writing a post on Oxfam DIY I found a guide on turning a scarf into a top and decided rather than letting it languish unloved in my wardrobe I'd risk a bit of DIY.
DIY – Recycling Vintage Scarves. — Retro Chick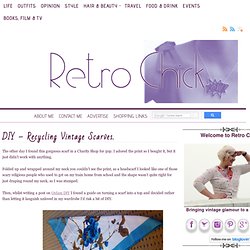 Peter Walsh Design | What's New!
Creative Organizing Ideas for Every Room | The Inspired Room
Creative Organizing
On January 5th I posted my first official goal for 2013 on my Facebook page, along with my goal to set and achieve 13 goals in 2013. I've decided to share my 13 in 13 goal journey via my blog…and you're invited to join me! Here's how it's going to work… First, this is opportunity to share what you want out of 2013 so my readers and I can give you encouragement and celebrate with you when you cross each finish line.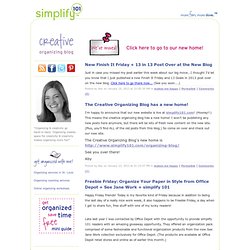 Super Organiser Mum – Organisation Tips, Articles and Advice on Beyond The Baby