Wordpress-PayPal-Ecommerce
Are PayPal 1.7.0 version was released | Are PayPal. WP Easy Paypal Payment Accept. Easy to use WordPress plugin to accept paypal payment for a service or product or donation in one click.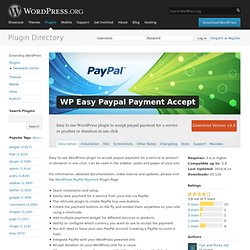 Can be used in the sidebar, posts and pages of your site. For information, detailed documentation, video tutorial and updates, please visit the WordPress PayPal Payment Plugin Page Quick installation and setup.Easily take payment for a service from your site via PayPal.The ultimate plugin to create PayPal buy now buttons.Create the payment buttons on the fly and embed them anywhere on your site using a shortcode.Add multiple payment widget for different services or products.Ability to configure which currency you want to use to accept the payment.You will need to have your own PayPal account (creating a PayPal account is free).Integrate PayPal with your WordPress powered site.Accept donation on your WordPress site for a cause.Allow your users to specify an amount that they wish to pay.
10 Powerful Shopping/Ecommerce Plugin Solutions For Wordpress : Speckyboy Design Magazine. This article came about after a comment from Andrew Pitchford on the article 10 Amazing WordPress Plugins for Flickr, he had enquired about eshopping plugins.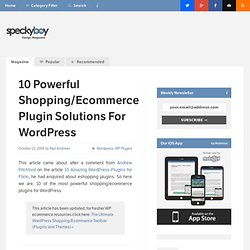 So here we are, 10 of the most powerful shopping/ecommerce plugins for WordPress. WP e-Commerce plugin for WordPress Description: The WP e-Commerce shopping cart plugin for WordPress is an elegant easy to use fully featured shopping cart application suitable for selling your products, services, and or fees online.
WP e-Commerce is a Web 2.0 application designed with usability, aesthetics, and presentation in mind. Note: This is by far and away the most complete and powerful Shopping Plugin you will find for WordPress. Shopp plugin ecommerce for wordpress. WordPress e-Commerce Plugin a WordPress Shopping Cart Plugin by Instinct | Instinct Entertainment. WP e-Commerce.
We make setting up an ecommerce shop easy, and with over 2.7 Million downloads, we have unparalleled experience.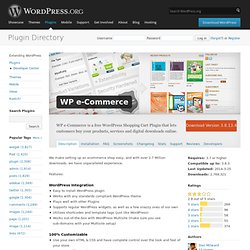 Features: WordPress Integration Easy to install WordPress pluginWorks with any standards compliant WordPress themePlays well with other PluginsSupports regular WordPress widgets, as well as a few snazzy ones of our ownUtilizes shortcodes and template tags (just like WordPress)Works out-of-the-box with WordPress Multisite (make sure you use sub-domains with your Multisite setup) 100% Customizable Use your own HTML & CSS and have complete control over the look and feel of your storeEasy to modify templates.
---