Design Blogs
Sexy CSS Gallery, Web Design Showcases, Best CSS Examples. Punchcut. Printables. Printable Iron-on Bunny Bags by Alix Sorrell You can never have too many bunnies when it comes to Easter.
Advanced Photoshop - For Adobe Photoshop Professionals. If you've mislaid the essential CD-ROM that came with your magazine, fear not, you can download all the tutorial source files right here.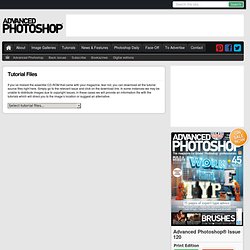 Simply go to the relevant issue and click on the download link. In some instances we may be unable to distribute images due to copyright issues, in these cases we will provide an information file with the tutorials which will direct you to the image's location or suggest an alternative. Web & Graphic Design ,Tutorials ,Inspiration ,PhotoShop ,Vector. CreativeFan - Inspiration, Resources and Tutorials for Creative Professionals. Vectips - Illustrator tips, tricks, and tutorials. Adobe Creative Suite Tutorials and Reviews for Photographers, De. Psdtuts+ | Adobe Photoshop tutorials, from beginner to advanced.
---