Robots
robots,robot news,robot asimo,robot build,robot how is done,robot technology
Découvrez les révolutions de la robotique sur Futura-Sciences
From RepRapWiki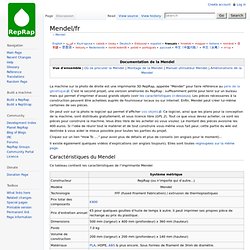 Mendel (Français)
NEWS: Come to the Inside 3D Printing event in New York City !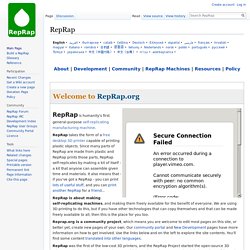 From RepRapWiki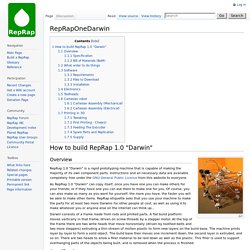 OneDarwin
projets:gestionde24servos - Wiki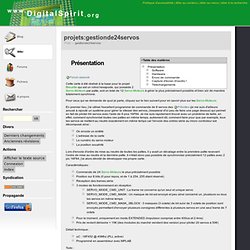 Forum associé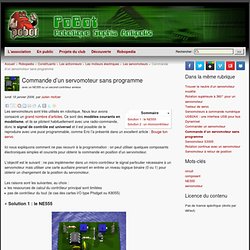 Les servomoteurs sont très utilisés en robotique. Nous leur avons consacré un grand nombre d'articles .
[PoBot] Commande d'un servomoteur sans programme
Phase 2 : constitution d'un groupe d'acheteurs sur un même produit clairement identifié Si un nombre jugé suffisant de hobbyistes/associations/laboratoires/écoles commencent aussi à se déclarer intéressés par l'acquisition du produit, Robot-Maker contacte alors le fabricant ou fournisseur, et tente de pré-négocier un "deal". Dans un troisième temps, si le deal, une fois présenté ici, suscite un réel intérêt, nous finalisons le deal avec le fabricant et programmons la vente sur Robot-Maker, suivant les règles classiques de l'achat groupé (l'achat n'est effectif que si le nombre d'acheteurs est réellement atteint, si ce n'est pas le cas le client est remboursé).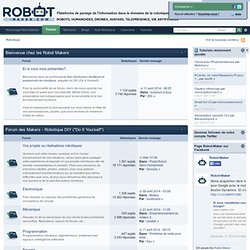 Choisir et simuler un moteur pour votre robot - Mécanique - Tutoriels robotique - Robotix
Project Description: A central panel is suspended from the ceiling grid.
Media Robotics I: Physical Computing » Galactic Geometries Revised
How to Design, Build, and Program a Robot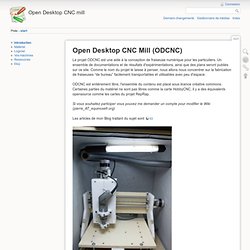 Le projet ODCNC est une aide à la conception de fraiseuse numérique pour les particuliers. Un ensemble de documentations et de résultats d'expérimentations, ainsi que des plans seront publiés sur ce site.
start – Open Desktop CNC mill
Forum Pobot