Militaire
Le comparateur technique - F4U Corsair - F4F Wildcat ::: www.avionslegendaires.net
Washington, DC, June 11, 2008 - An American spy plane went missing over the Soviet Union at the height of the Cuban missile crisis for one and a quarter hours without the Air Force informing either President Kennedy or Defense Secretary Robert McNamara, according to a new book by Washington Post reporter Michael Dobbs (drawing on documents posted here today by the National Security Archive.) The accidental intrusion into Soviet air space by a U-2 belonging to the Strategic Air Command on October 27, 1962, is still classified top secret by the Air Force and has received little attention from missile crisis historians. Dobbs discovered a map in the National Archives that reveals for the first time the precise route taken by Captain Charles Maultsby as he was chased by Soviet Mig Fighters over the Chukotka Peninsula.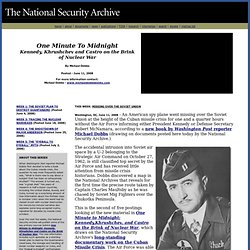 One Minute to Midnight - Part II: Missing Over the Soviet Union
« La première fois qu'ils m'ont reçu dans cette pièce, juste avant qu'ils (la CIA) ne me parlent de cet appareil », raconte le pilote de U-2 Bob Ericson, « ils ont ouvert le robinet de la salle de bains en grand et monté le volume de la radio, au cas où quelqu'un aurait espionné la pièce.» C'est dire le climat de secret qui entoura cet avion. Dès la fin du deuxième conflit mondial, de vives tensions opposèrent les anciens alliés. De fil en aiguille, de blocus de Berlin en guerre de Corée, on s'installait dans le climat inquiétant de la guerre froide, américains et soviétiques soupçonnant l'autre de vouloir le détruire.Lorsqu'en 1954, aux traditionnelles fêtes du 1er mai qui servaient de vitrine à la puissance militaire soviétique, on put voir un bombardier stratégique Myasischev M-4, les milieux politiques et militaires américains prirent peur.
La mésaventure de Gary Powers.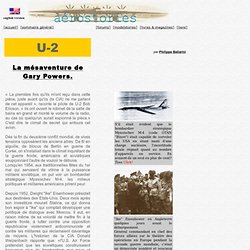 Aéronavale & porte-avions • Page d'index
Nous sommes le Mar 14 Jan 2014 13:15 Voir les messages sans réponses • Voir les sujets actifs L'aéronavale des débuts à 1918 Des premiers aérostats et aéronefs navals à ceux de la fin de la Première Guerre Mondiale 70 Sujets 335 Messages Dernier message par vigi Sam 4 Jan 2014 14:40 L'aéronavale, de 1918 à 1938 Toute l'aviation navale de l'entre-deux-guerres 191 Sujets 246 Messages Dernier message par vigi Lun 30 Déc 2013 22:07 Aéronavale de 1938 à 1945 Toute l'aviation navale, embarqué ou non de la WWII 182 Sujets 644 Messages Dernier message par vigi Mer 18 Déc 2013 14:43 Aéronavale après 1945 L'aviation navale de la Guerre Froide à aujourd'hui 216 Sujets 1233 Messages Dernier message par PhantomII Mar 7 Jan 2014 22:06
Home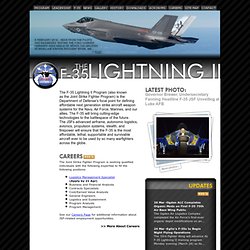 The F-35 Lightning II Program (also known as the Joint Strike Fighter Program) is the Department of Defense's focal point for defining affordable next generation strike aircraft weapon systems for the Navy, Air Force, Marines, and our allies. The F-35 will bring cutting-edge technologies to the battlespace of the future. The JSFs advanced airframe, autonomic logistics, avionics, propulsion systems, stealth, and firepower will ensure that the F-35 is the most affordable, lethal, supportable and survivable aircraft ever to be used by so many warfighters across the globe.
F-35 Lightning II Program
27 mai 2010 – 15:55 Un mois après la mise sur orbite réussie de la navette automatique X37B, l'US Air Force vient de réaliser avec succès, le 25 mai, un essai en vol de l'avion sans pilote X51A Waverider, depuis la base aérienne d'Edwards, en Californie. Cet appareil, conçu par Boeing, avec l'intervention de la Darpa et de la Nasa, est propulsé par un statoréacteur à combustion supersonique, devant théoriquement lui permettre d'atteindre la vitesse de mach 6 (soit six fois la vitesse du son) pendant au moins 300 secondes. Concrètement, un statoréacteur fonctionne comme un réacteur classique, à la différence près qu'il n'est pas muni de turbines pour comprimer l'air avant le déclenchement de la combustion. Cette compression est obtenue grâce à la vitesse et à la forme de l'appareil.
Premier vol réussi pour le X51A Waverider