Math
Conversion
9 Equations True Geeks Should (at Least Pretend to) Know | Wired Science
Even for those of us who finished high school algebra on a wing and a prayer, there's something compelling about equations. The world's complexities and uncertainties are distilled and set in orderly figures, with a handful of characters sufficing to capture the universe itself. For your enjoyment, the Wired Science team has gathered nine of our favorite equations. Some represent the universe; others, the nature of life. One represents the limit of equations.We do advise, however, against getting any of these equations tattooed on your body, much less branded.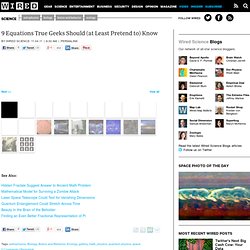 Les Nombres : Histoire et évolution.
What is ChaosPro - ChaosPro is a real time freeware fractal generator for MS Windows with support for many different fractal types (2D and 3D), true color support, animation support. Due to its integrated compiler it is quite fast even if you write your own formulas within ChaosPro. Is is suitable for me - Well, it depends on what you are looking for when visiting this site. The answer may be yes, if: you would like to create computer generated art you are interested in fractals you want to experiment with something new you want to know what your computer dreams at night Still unsure what it is - If you are new to this site you may have a look at: the Features page: It lists the main features from ChaosPro.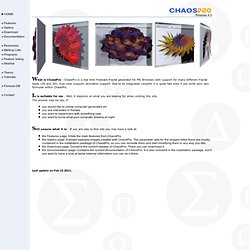 Introduction
Mathématiques et arts... - Le blog de Médiamaths
Voici tout d'abord un carré 4 × 4, qui a ceci de particulier que la somme des quatre nombres en son centre est aussi égale à la constante magique, qui est ici 34 : Toujours indifférent ? Tant mieux, on continue. Voici à présent un carré 5 × 5 de constante 65, qui contient un autre carré 3 × 3 de constante 39 :
Les carrés magiques (2) : Des carrés vraiment magiques…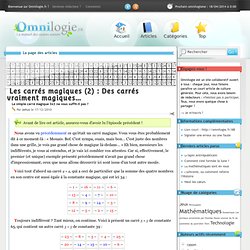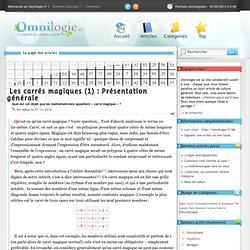 Les carrés magiques (1) : Présentation générale
Qu'est-ce qu'un carré magique ? Vaste question… Tout d'abord, analysons le terme en lui-même. Carré, on sait ce que c'est : un polygone possédant quatre côtés de même longueur et quatre angles égaux. Magique est déjà beaucoup plus vague, mais enfin, pas besoin d'être Calchas pour deviner ce que ce mot signifie ici : quelque chose de surprenant et d'impressionnant donnant l'impression d'être surnaturel.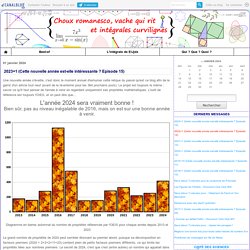 13 avril 2014 [#] La dualité. Mesdames et messieurs. Il n'y a pas que les physiciens quantiques et les philosophes qui ont le monopole de la dualité. Les mathématiciens ont aussi leur mot à dire, et ils ne se sont pas privés : dual d'un polyèdre, dual d'un graphe, dual d'un espace vectoriel, dualité de Poincaré... Ma dualité préférée est celle de la géométrie projective, le domaine de la géométrie qui étudie les notions de perspectives.