Developpement
Advertisement Creating WordPress tutorials is a fantastic way to help build the WordPress community and to increase your Web traffic. That's no secret.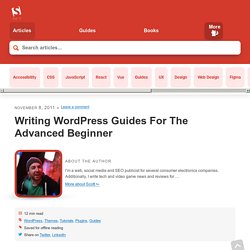 Writing WordPress Guides For The Advanced Beginner - Smashing WordPress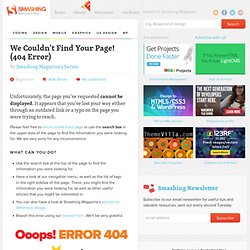 Building WordPress Themes You Can Sell
Advertisement When I took my first steps into the WordPress theme arena, I didn't know much about it. I wandered blindly into the business, not knowing whether I was doing things correctly.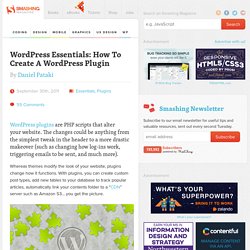 WordPress Essentials: How To Create A WordPress Plugin - Smashing WordPress
Advertisement WordPress plugins are PHP scripts that alter your website. The changes could be anything from the simplest tweak in the header to a more drastic makeover (such as changing how log-ins work, triggering emails to be sent, and much more). Whereas themes modify the look of your website, plugins change how it functions. With plugins, you can create custom post types, add new tables to your database to track popular articles, automatically link your contents folder to a "CDN" server such as Amazon S3… you get the picture.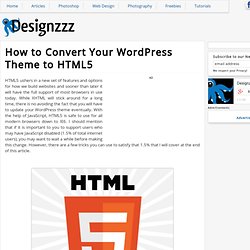 HTML5 ushers in a new set of features and options for how we build websites and sooner than later it will have the full support of most browsers in use today. While XHTML will stick around for a long time, there is no avoiding the fact that you will have to update your WordPress theme eventually. With the help of JavaScript, HTML5 is safe to use for all modern browsers down to IE6. I should mention that if it is important to you to support users who may have JavaScript disabled (1.5% of total internet users), you may want to wait a while before making this change. However, there are a few tricks you can use to satisfy that 1.5% that I will cover at the end of this article. This tutorial covers how to modify basic elements found in the Header, Loop and Footer of most WordPress themes.
How to Convert Your WordPress Theme to HTML5
[WordPress] Auto Link Best Tags, un plugin pour optimiser le linking interne (SEO)
L'une des règles de base du SEO est de placer habilement quelques liens dans ses articles vers d'autres pages de son site. Cela favorise la découverte de l'ensemble d'un site par les crawlers des moteurs de recherche et permet à vos visiteurs de trouver d'autres contenus que vous jugez intéressants. Mais il faut avouer que réaliser ce maillage est long et fastidieux, encore plus a posteriori. Auto Link Best Tags est un plugin pour WordPress qui permet de créer automatiquement des liens dans son contenu vers les pages des tags les plus utilisés. Très simple, il permet de choisir combien de liens vers les tags apparaissent par articles (minimum et maximum) et combien de fois le tag doit avoir été utilisé pour être candidat. Chaque lien ainsi créé porte la classe CSS autolinkbesttags ce qui permet de les styler comme bon vous semble.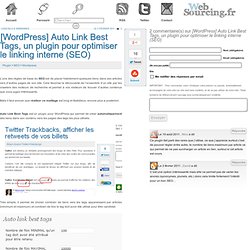 Depuis quelques temps, on voit fleurir les plugins pour automatiser l'interlinking interne sur les blog WordPress. J'avais d'ailleurs fait un billet sur Auto Link Best Tags. Il faut dire que cette technique est incontournable pour le référencement de votre blog.
[WordPress] Créer un chainage interne sans plugin (interlinking SEO)