Composants
Relay \ Learning
This example is for Wiring version 1.0 build 0100+. If you have a previous version, use the examples included with your software. If you see any errors or have comments, please let us know. Switching a 125VAC light bulb with a general purpose Relay Relay 5VDC by BARRAGAN http://barraganstudio.com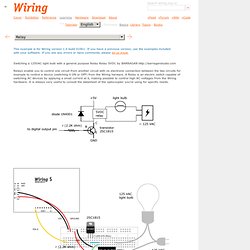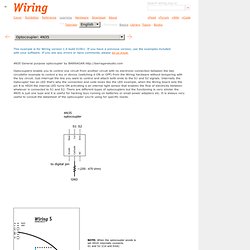 This example is for Wiring version 1.0 build 0100+. If you have a previous version, use the examples included with your software. If you see any errors or have comments, please let us know. 4N35 General purpose optocoupler by BARRAGAN http://barraganstudio.com
Optocoupler4N35 \ Learning
playground - TLC5940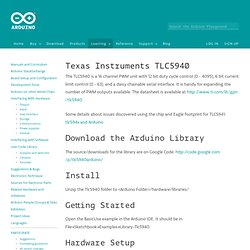 The TLC5940 is a 16 channel PWM unit with 12 bit duty cycle control (0 - 4095), 6 bit current limit control (0 - 63), and a daisy chainable serial interface. It is handy for expanding the number of PWM outputs available. The datasheet is available at http://www.ti.com/lit/gpn/tlc5940. Some details about issues discovered using the chip and Eagle footprint for TLC5941: tlc594x and Arduino Download the Arduino Library
8 Button PC Game Controller | KTech Consulting
GoGo Board: Science and Robotics for the Inventive Mind The GoGo board is a programmable device that is designed for sensor-based and control projects. It is suited for building robots, data loggers, and devices for human-computer interaction. Its functionality is inspired by the MIT Cricket and many other programmable devices such as the the Lego Mindstorms, the IRX board, and Basic Stamps.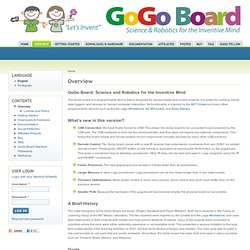 Overview | GoGo Board
WANT MORE?? Dont forget to see everything else in the Part selector index! General notes: The C or I after the name is Commercial or Industrial temp.
partfinder:ic [AdaWiki]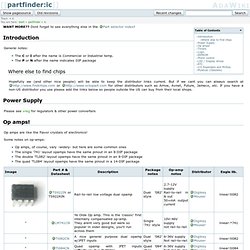 Multimeters
Mes differents projets de robotique » Tutorial : Lire la position d'un servo-moteur
/*High Speed Flash Trigger with LCD output Instructions for use :- 1. Align mirror to position beam to the light sensor (LDR). 2. When LCD notify that the laser is aligned, press the push button once
Arduino High Speed Photography laser flash trigger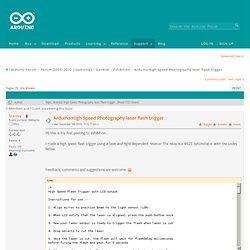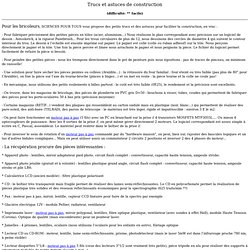 Trucs et astuces de construction (difficulté: ** facile) Pour les bricoleurs, SCIENCES POUR TOUS vous propose des petits trucs et des astuces pour faciliter la construction, en vrac :
SCIENCES POUR TOUS Trucs et astuces de construction
Electronique > Théorie > Optocoupleur Dernière mise à jour : 03/11/2009 Présentation Un optocoupleur est un composant ou un ensemble de composants qui permet le transfert d'informations entre deux parties électroniques isolées l'une de l'autre d'un point de vue électrique. La première partie est un émetteur, et la seconde partie est un récepteur. On peut l'assimiler à un composant qui a une entrée (émetteur) et une sortie (récepteur).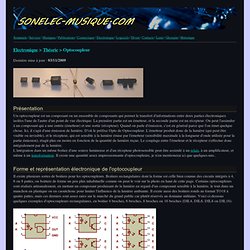 Théorie - Optocoupleur
One of the cool devices I wanted to get work with .NET Micro Framework was a camera. Problem with most of the camera is, that it's using almost 20 pins when connecting to CPU. There are eight pins for Y-bus (gray-scale image) next eight for U-bus (color channel) and three pins for clock, frame-sync and h-sync. After that, camera is usually required to be connected over I2C, for configuration settings (brightness, contrast, rotation etc.) Luckily there is the company called COMedia Ltd., producing still image cameras connected over serial interface.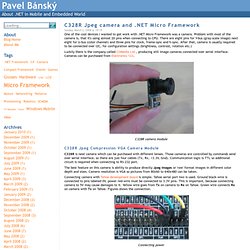 C328R Jpeg camera and .NET Micro Framework | Pavel Bansky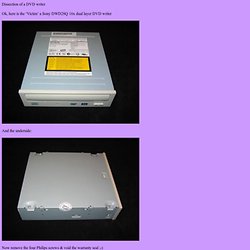 Dissection of a DVD writer Ok, here is the 'Victim' a Sony DWD28Q 16x dual layer DVD writer And the underside: Now remove the four Philips screws & void the warranty seal ;-) Now release the left hand PCB
Dissection of a DVD writer