555
[Composant] Le NE555 - Electronique - Tutoriels - Home - Page 2
The 555 Precision Timer IC - Birds on the Wire
Hello readers Today we revisit one of the most popular integrated circuits ever conceived – the 555 timer IC . "Triple-five", "five-five-five", "triple-nickel" … call it what you will, it has been around for thirty-eight years. Considering the pace of change in the electronics industry, the 555 could be the constant in an ever-changing universe. But what is the 555?
Various 555 Timer circuits - Birds on the Wire
Hello readers The purpose of this article is to follow on from our explanation of the 555 timer IC by demonstrating some simple yet interesting, noisy and plain annoying uses of the 555. They are by no means that complex, and intended to help move theory into practice. Button de-bouncer De-bouncer?
Fire-DIY - Oscillo 555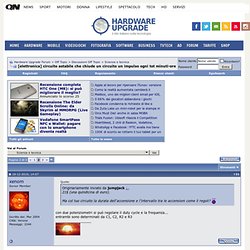 [elettronica] circuito astabile che chiude un circuito un impulso ogni tot minuti-ore - Pagina 2
Quote: mi pare strano. se la capacità è fissata, la costante di tempo rc dovrebbe restare inalterata anche coi condensatori non elettrolitici.se la caduta di tensione che hai su r2 è maggiore di quella che hai su r1 potresti avere una polarizzazione inversa dell'elettrolitico. non dovrebbe succedere, tant'è che tutti gli esempi riportano gli elettrolitici come condensatori impiegati, però dipende dalle resistenze che usi. perché non dovrebbe? il 555 legge due tensioni, e le confronta con due valori di riferimento. in base al confronto setta o resetta un flip flop. lo vedi qui. quando il chip viene utilizzato per un astabile, la configurazione "da libro di testo" è simile a questa: dove la tensione è quella ai capi di un condensatore, C1 che si carica attraverso la resistenza R1+R2 e si scarica attraverso La resistenza R2 per cui fissando R2 definisci il tempo necessario alla scarica ( da V_alto a V_basso) fissando R1 definisci il tempo necessario alla carica ( da V_basso a V_alto).
Circuits Using Ic 555 - DATASHEET and Circuit Diagram
I put together the arduino protoshield from sparkfun. Excellent instructions at atomicsalad. Even though it's a standard through-hole kit, atomicsalad's instructions were nice to follow along. After it was put together I had a few built-in LED lights to play with. I had seen this 555 timer in a piece kit I bought and I wondered what it does. I found a ton of examples and apparently you can do a zillion things with it.
Basic 555 timer Arduino project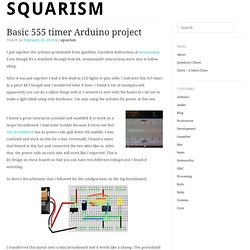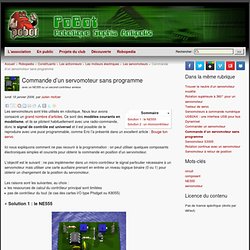 Commande d'un servomoteur sans programme
Les servomoteurs sont très utilisés en robotique. Nous leur avons consacré un grand nombre d'articles. Ce sont des modèles courants en modélisme, et ils se pilotent habituellement avec une radio-commande, donc le signal de contrôle est universel et il est possible de le reproduire avec une puce programmable, comme Eric l'a présenté dans un excellent article : Bouge ton servo Ici nous expliquons comment ne pas recourir à la programmation : on peut utiliser quelques composants électroniques simples et courants pour obtenir la commande en position d'un servomoteur. L'objectif est le suivant : ne pas implémenter dans un micro-contrôleur le signal particulier nécessaire à un servomoteur mais utiliser une carte auxiliaire prenant en entrée un niveau logique binaire (0 ou 1) pour obtenir un changement de la position du servomoteur. Les raisons sont les suivantes, au choix :
[Composant] Le NE555 - Electronique - Tutoriels robotique - Robotix
Et si vous vous présentiez? Bienvenue dans la communauté des roboticiens amateurs et passionnés de robotique, adeptes du DIY (Do It Yourself). Pour la convivialité de ce forum, merci de nous raconter qui vous êtes et quels sont vos objectifs.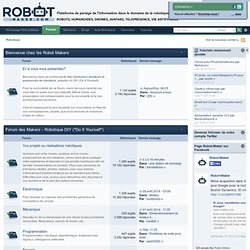 Un Timer simple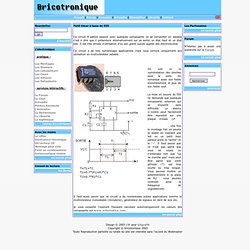 Ce circuit 8 pattes associé avec quelques composants va se comporter en astable c'est à dire que il présentera alternativement sur sa sortie un état haut et un état bas. Il est très simple d'utilisation d'où son grand succès auprès des électroniciens. Ce circuit a de très nombreuses applications mais nous verrons uniquement son utilisation en multivibrateur astable. Il faut aussi savoir que ce circuit a de nombreuses autres applications comme le multivibrateur monostable (minuterie), générateur de signaux en dent de scie etc.. je vous conseille l'exellent freeware calculant automatiquement les valeurs des composants sur www.schematica.com.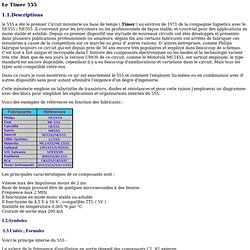 Le 555
Le Timer 555 1.1.Descriptions le 555 a été le premier Circuit minuterie ou base de temps ( Timer ) au environ de 1971 de la compagnie Signetics avec le SE555 / NE555 .Il convenait pour les bricoleurs ou les professionnels de façon stable, et convivial pour des applications en mono stable et astable.
Schéma fonctionnel L'alimentation du circuit se fait entre 4,5v et 16v (borne 8 - Vcc). Un niveau bas sur la borne 4 (Remise à zéro) enclenche la bascule (Q=1) et sature les transistors de Sortie et de Décharge. Il est conseillé de relier cette borne à Vcc lorsqu'elle n'est pas utilisée, afin d'éviter des mises à zéro intempestives.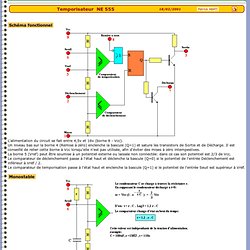 NE 555
555 Contest: Welcome!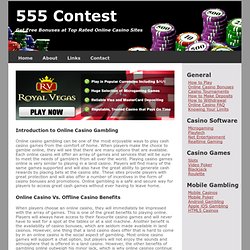 Introduction to Online Casino Gambling Online casino gambling can be one of the most enjoyable ways to play cash casino games from the comfort of home. When players make the choice to gamble online, they will see that there are many options that are available.
Winner of the 555 Timer Contest: Artistic category. www.555contest.com Winner of a Fluke Multimeter donated by http://www.designspark.com 555 Timer Contest entry video:http://www.youtube.com/user/dirtypinball#p/a/u/0/PQOjkuJtBfM Description: Le Dominoux are "LED dominoes", a blinking LED that propagates from device to device. Each Dominoux comprises a coin cell-powered 555 timer circuit configured as a one-shot, triggered either by a photo transistor or CdS photocell.
555 Timer du concours d'entrée - Le Dominoux | Junk'n'Stuff